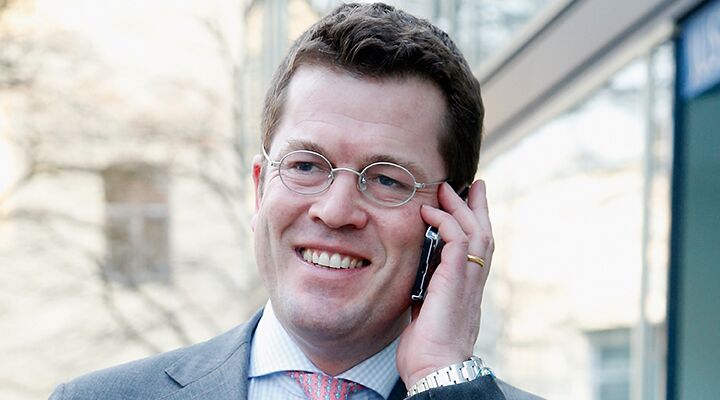 Karl-Theodor zu Guttenberg: Positioned for a Comeback?
He is an astute, pragmatic thinker, a powerful communicator, and a natural leader—just the type of individual Germany and Europe need right now.
You can drive the man out of politics, but you can never drive politics out of the man. Case in point: Karl-Theodor Maria Nikolaus Johann Jacob Philipp Franz Joseph Sylvester Freiherr von und zu Guttenberg.
If you don't know who Baron Guttenberg is, you can see him here, here and here. A few years ago this man was Germany's defense minister, the nation's most popular politician, and the individual many were certain was next in line to become chancellor. Today Mr. Guttenberg resides in Connecticut, America, where he was banished in 2011 following a massive scandal surrounding the discovery that he had plagiarized parts of his doctorate. Although he no longer holds an office, he remains an astute, pragmatic politician, a dynamic communicator, and a born leader.
He is, therefore, a man to watch.
Guttenberg has strong views on all the major issues, including the United States-Germany spying scandal (and the relationship in general), Putin's war on Ukraine, the Islamic State's rise in Iraq and Syria, the Israel-Hamas war in Gaza, Germany's military, and Germany's role on the international stage. His opinions are generally rational, well-reasoned and prescient. And, whether in articles or on tv, he shares them with eloquence, candor and force. If you're familiar with German and European politics, you know individuals like this are rare.
One of Guttenberg's most notable characteristics—and one that stands out more and more—is his foresight and vision. He understands the issues of the day more deeply than most Germans and Europeans.
One of Guttenberg's most notable characteristics—and one that stands out more and more—is his foresight and vision.
A couple of months ago, for example,
before
the German government decided to ratchet up its support of the Kurds in Iraq, Guttenberg criticized the government for its weak handling of the Iraqi crisis. "For weeks the militia of [the Islamic State] has been massacring innocent people in Iraq and Syria," he wrote in
Bild
. How has Berlin responded? "We are making ourselves a politically waterproof protective-vest-doctrine," he said. Guttenberg criticized the policy of Defense Minister Ursula von der Leyen as "cynical" and condemned the German government for "letting others do the dirty work in Iraq."
Just days later, Germany announced that it would begin supplying weapons to the Kurds. It's unlikely Berlin made its decision as a result of Guttenberg's criticism, but the point is, Guttenberg was ahead of Berlin on this issue.
Guttenberg's view of how Europe must deal with Russia is similarly foresighted. From the outset, he has called for Germany and Europe to take a controlled yet uncompromising and dynamic approach to Russian President Vladimir Putin. Writing in Time last January, he explained that Germany and Europe needed to confront Putin, not compromise with and appease him. At the time, many thought this view was pessimistic and unnecessarily confrontational. His view, however, has since been vindicated. Since January, Putin has intensified his war on Ukraine, threatened Europe's energy supplies, threatened Baltic states, and caused a commercial airplane carrying almost 300 civilians to be shot down. As dubious as Guttenberg's view might have appeared in January, events have shown he was spot on.
During an interview last month with German newspaper Kurier, Guttenberg discussed the crises in Ukraine and the Middle East. Unencumbered by political office, he spoke candidly about how the EU's sanctions against Russia came too late, how Germany was being far too cautious, and how Europe was too divided to do anything serious or lasting. He also analyzed U.S. politics, stating that America was entering the longest "lame duck" presidency in its history. These aren't popular views, at least not right now. But events are proving them accurate. Sooner or later, people will come to see that he was right.
During the same interview, Guttenberg explained how Vladimir Putin's behavior is largely the result of "ongoing weakness in Europe's foreign policy, and a blatant lack of coordination among EU members." On the issue of Israel-Hamas, and the Middle East in general, he said Europe needs to understand that "nothing is accomplished with noble words, you have to find unity—especially when it comes to one's own backyard." Again, these words won't make him popular with some European leaders, but what will happen when what Guttenberg is saying proves true?
These aren't popular views, at least not right now. But it is the truth, and events are proving it accurate. Sooner or later, the people will come to see that he was right!
Will Germany, will Europe, beg this man to come out of retirement and solve the problems he has been warning them about?
Mr. Guttenberg has also been outspoken about the U.S.-German spy scandal, which has put the German-U.S. relationship under terrific strain. He has strongly criticized the White House and even President Barack Obama directly. Not because America spied on Germany, or bugged the German chancellor's phone—as Gutenberg himself stated, everyone spies on one another today. Rather, Guttenberg criticized President Obama for his inept response to the crisis in German-U.S. relations.
During a cnn interview with Christiane Amanpour, Guttenberg called President Obama "probably the most detached president in decades, not seemingly capable of communicating properly on an eye-to-eye level with other heads of state." Guttenberg explained what ought to have happened after Washington got caught tapping Chancellor Merkel's phone: "You pick up the phone, you call the chancellor, you tell her, 'Well, we messed up, let's try to fix it.'"
"Didn't happen," Guttenberg said. Instead, America's president remained silent and distant, acting as if he didn't care. Guttenberg pointed out that Merkel took a considerable risk in defending the U.S. after the nsa revelations first emerged. "That's a level of mistrust that needs to be fixed, and it needs to be fixed from Washington," he stated.
You watch. The unhealthy state of the U.S.-German relationship is already making headlines, but this crisis is going to get much worse. Expect to see many more headlines about the breakdown of this relationship. When it happens, this too will vindicate K.T. zu Guttenberg. It is an issue he has been talking about for months!
Guttenberg's ability to see where others do not, to anticipate crises and trends, to forecast, is not a recently acquired skill. He's always been a trendsetter. Perhaps it's the result of his aristocratic background and political pedigree. Wealth and power often allow a person more freedom of expression and personality.
Guttenberg's ability to see where others do not, to anticipate crises and trends, to forecast, is not a recently acquired skill. He's always been a trendsetter.
The
Trumpet
has reported this year on the change afoot within Germany's military establishment. It's happening slowly, but it is happening. Jan Techau, the director of Carnegie Europe, wrote about this recently. "Something is sprouting in Germany," he wrote. "As Europeans ponder the necessity of military strength after Russia's annexation of Crimea, and
nato
charts its course for the post-Afghanistan era,
Europe's reluctant central power is doing some serious soul-searching on its role as a military player
."
But notice who the catalyst was: "This reflective process started years ago, when former Defense Minister Karl-Theodor zu Guttenberg started to set things straight by calling the war in Afghanistan a war and a fallen soldier a fallen soldier—things that had previously been taboo. But now, after those linguistic adaptations to reality, it seems that a more profound change is happening, one that might eventually lead to a shift in political behavior."
That's pretty incredible: Germany's present military transformation can be traced right back to Guttenberg's tenure as defense minister!
Although he holds no political office today, Guttenberg's voice still carries a lot of weight. In one recent article, a September 3 piece in the Wall Street Journal, he condemned the poor state of Germany's military. "It is appalling that Germany recently decided to cut military spending by about €800 million (us$1.05 billion) in 2015." Once again, the baron was weeks ahead of everyone else. Just last weekend, German Defense Minister Ursula von der Leyen summoned an emergency meeting to discuss the poor state of readiness of the German military. Two days later she told Bild that Germany cannot currently fulfill its commitments to nato and called for the nation to increase its military spending. A debate about military spending is now under way in Germany. Politicians from both the ruling coalition parties, and even the Green Party, are calling for the military to have more money to spend on equipment.
It is appalling that Germany recently decided to cut military spending by about [US$1.05 billion] in 2015.
Karl-Theodor zu Guttenberg
Did Guttenberg initiate this national conversation? It's difficult to know for sure,
but this is something he has been stressing for months!
Germany's and Europe's political establishments are increasingly getting on board with Guttenberg. The German public and Europeans in general are still a little ways behind. But events such as the crisis in Ukraine, the gruesome actions of the Islamic State and Europe's economic malaise are forcing both Germans and Europeans to recognize reality and come to terms with the fact that Germany and Europe will need to be more active and aggressive. Slowly but steadily, the observations Guttenberg has been making for months, even years, are being vindicated!
Considering global events and conditions in Europe, it's easy to see how Guttenberg's stature in Germany, and even Europe, could easily rise—and quickly. Over the past two weeks there have been rumors of a Guttenberg comeback. These center around statements from Horst Seehofer, the head of the Christian Social Union (csu), the party Guttenberg once served. Seehofer is an ardent Guttenberg ally and supporter, and wants to see him back as a leader within the party. "My door is open for Karl-Theodor zu Guttenberg," he recently stated.
Germany's Spiegel reported that Seehofer has asked Guttenberg to participate in a csu panel discussion on foreign policy later this year. When Guttenberg departed politics, the csu was left without a "relevant voice" in foreign policy, Spiegel wrote. Could we see Guttenberg return soon to Germany and to Germany's political stage? Only the man himself can answer that question. But given his personality and leadership, and considering the conditions in Germany and Europe, the longer he waits, the more welcome his return will be.