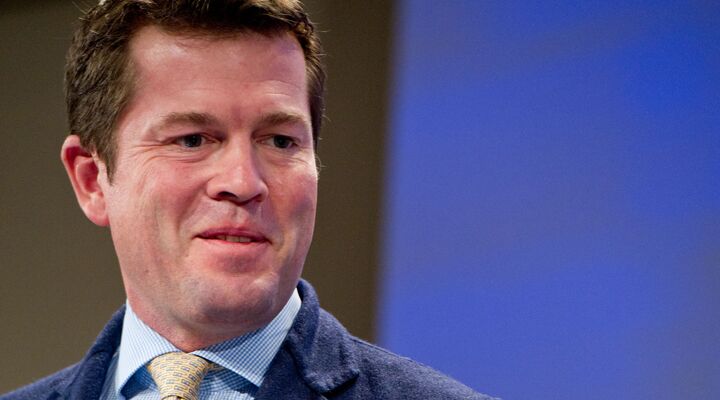 The Brilliance of Karl-Theodor zu Guttenberg
Was Guttenberg's untimely departure from German politics a blessing in disguise?
Let's say I'm a skilled, middle-aged German politician in possession of all the tools needed for political success. My supreme goal is to become Germany's chancellor, though I'll consider any high-level position in Germany or the EU that sets me on the path toward this goal.
Here's the three-part strategy I've been employing in recent years in pursuit of this goal.
First, I'm refusing every opportunity to play a major official role in German or EU politics. At least for now. Under the right circumstances this could change suddenly, but for now I'm more than happy to sit on the bench. I know that seems counterintuitive, but in politics—especially at my age—you have to play the long game. Are you watching politics in Europe and Germany right now? The place is an impenetrable minefield.
Europe's debt crisis, in particular, is a career killer that is still taking causalities. Name a German (or European) politician right now who is genuinely liked by the majority of the public. Angela Merkel, coming off victory in recent German elections, probably comes to mind. Merkel might be popular, but she isn't genuinely liked. Merkel was reelected because she's the known entity, the way to preserve the status quo, the safe choice. And safe is what Germans desire most right now.
Merkel might have the most important job in Europe, but it's also the most dangerous. The Continent is experiencing a complex and historic crisis—one that threatens the financial and political underpinnings of the EU and post-war Europe—one that increasingly pits the German public (anti-German intervention) against the rest of Europe (desperate for German intervention)—and one that will get much worse before it gets better. Angela Merkel has the impossible task of fixing Europe, and fixing it in a way that satisfies everyone. I want Merkel's job, just not right now.
That's why the safest place for me, until the right moment comes, is right here on the bench.
Second, though I'm avoiding public office, I'm maintaining a public image. Not in an obnoxious, gratuitous way. I'm more Meryl Streep than Miley Cyrus. This means avoiding crazy antics and superficial attention. Instead, I'm promoting my personality and politics widely but subtly, through hard work, meaningful projects and quality works.
This means writing thoughtful, articulate articles on key issues. Articles that expose the weaknesses of opponents and sell me as an intelligent politician with serious solutions. It means making the evening news and the pages of Bild and its counterparts, but only occasionally and only in narratives that build my brand. It means attending major conferences, giving lectures and delivering public speeches. Not on frivolous subjects, but on important subjects that Germans care about or ought to care about: German politics, the war in Afghanistan, German foreign policy, Europe's financial crises, and currently, Barack Obama's snooping on Angela Merkel.
The goal is to be seen, but only as the solution and never as the problem.
Third, I'm maintaining intimate relations with political friends and allies in Germany and abroad. This means keeping abreast of all the major issues, keeping my finger on the pulse of German politics, and injecting myself into all the major conversations in Berlin. It means regular meetings, dinners and weekends with politicians, statesmen, journalists and businessmen, from Berlin, Brussels and other world capitals.
A good vehicle for padding my résumé, expanding my network, and growing my brand might be to join a prestigious think tank. While I'd have the freedom to advance my own agenda, a think tank would allow me to be fully immersed in politics yet not be seen as a politician. A prominent American think tank would be ideal. In America, I could develop relationships with all sorts of significant people. Thanks to modern technology, it would be easy to maintain a presence in German media; the ease of modern travel would allow for regular forays to Europe. But if the landscape becomes dangerous, I could easily leave.
The purpose of these three tactics is two-fold. First, I'm reducing the risk of becoming collateral damage in Europe's debt crisis. Second, I'm positioning myself to step into a position of power when conditions converge for my return to politics. What will conditions have to be like for me to return? It's hard to say. It's not that the debt crisis would have to be over and Europe fixed. I would just have to see a clear and safe path toward my ultimate goal. So, whatever position I might accept, it would have to be significant, a guaranteed springboard into higher office, with minimal risk of tarnishing my reputation and handicapping my political aspirations.
But here's what I love most about this strategy: Executed right, it could even result in me being invited into a position of leadership!
This would be my strategy if I were a German politician, which I'm not. But what if a real German politician is actually implementing such a strategy?
For years the Trumpet has watched a certain German politician: Karl-Theodor Maria Nikolaus Johann Jacob Philipp Franz Joseph Sylvester Freiherr von und zu Guttenberg. KT for short.
Karl-Theodor zu Guttenberg is young (42), highly intelligent, politically experienced, and a powerful orator with a movie-star appearance. He comes from Bavaria, where he's long been an active and important member of the conservative Christian Social Union (csu), the sister party to Merkel's Christian Democratic Union (cdu). Up until March 2011, Guttenberg served in Merkel's administration as Germany's defense minister. Before that he was Germany's minister for economics and technology. He was first elected a member of the Bundestag (Germany's parliament) in 2002.
Three years ago, Karl-Theodor was the most popular politician in Germany—by a wide margin. Together, Guttenberg and his attractive, intelligent, articulate wife, Stephanie, were hailed as Germany's "power couple," the glamorous and bedazzling royal family of Germany, a political tour de force "that has rarely been seen in Germany with such striking power." In Berlin and among the media, KT zu Guttenberg was seen as "chancellor in reserve," the man who would inevitably replace Merkel at Germany's helm.
Beyond all this, Guttenberg and his wife have an intriguing and captivating family heritage. Karl-Theodor, as we've noted before, belongs to a wealthy aristocratic family whose bloodlines have been traced as far back as 1158. In 1700, Guttenberg's forefathers were conferred the title Baron of the Holy Roman Empire. Guttenberg is also related to the Hapsburgs, another prominent royal dynasty that has a rich history with the Holy Roman Empire. Even today, KT owns an impressive castle that sits high on a hill overlooking the village of Guttenberg, Bavaria. The lineage of Stephanie Gräfin von Bismarck-Schönhausen is equally as impressive. Guttenberg's wife is the great-great-granddaughter of Otto von Bismarck, the father of the modern German state and the first chancellor in the history of modern Germany.
So, what happened to Karl-Theodor and Stephanie?
In March 2011 Guttenberg resigned from the Bundestag and as defense minister after it was discovered that he had plagiarized his doctoral thesis. The resulting melee was vicious and unrelenting. Guttenberg was bashed by the media for months, and long after his title had been removed and he'd been banished from politics. Although his crime was serious, the ferocity with which the German media attacked the aristocratic superstar was striking. In Germany, titles are respected and deeply valued. To come by a doctorate immorally, without truly earning it, is a capital sin. Even still there seemed to be something extra personal behind the media assault on Guttenberg.
Following his departure from public office, Guttenberg relocated with his family to Connecticut, where he joined the think tank Center for Strategic and International Studies under the title Distinguished Statesman. Guttenberg has also been an adviser to Neelie Kroes, vice president of the European Commission, on the issue of Internet freedom. It's a lightweight job that doesn't seem to have consumed too much time. When it comes to German politics, Guttenberg hasn't held office since March 2011. He's been disfellowshiped and appears to be a pariah. Meanwhile, the prevailing belief among many German pundits, it seems, is that Karl-Theodor zu Gutternberg's career as a major and respected politician in Germany is over.
But I wonder if there's another way of looking at this.
Was Guttenberg's untimely departure from Germany's political scene a blessing in disguise?
Guttenberg left public office just as Greece's debt crisis was peaking and began forcing Germany and Europe into some divisive, deeply personal discussions. He left before unemployment in Europe became the time bomb it is today, and before the financial crises that now besiege Spain, Italy and France (and others) really set in. Guttenberg was gone before the war on Libya, before the Syria crisis, and before the recent German election. No politician in Germany or Europe has come through all this unscathed, their reputation intact, their political career secure and bright. There's no doubt the plagiarism scandal hurt Guttenberg, but it also probably saved him from being wounded, perhaps fatally, in the crossfire of the past 2½ years. Meanwhile, it is becoming a distant memory.
Now, perhaps conditions are conducive to a major shift in public opinion on Karl-Theodor. Germans could easily be justified in believing the man is repentant, that he's done penance for his mistakes, and that he deserves a second chance. Moreover, the need for his style of leadership is intensifying. Europe's problems, financially and otherwise, are growing, and the Continent is demanding leadership from Merkel that she just doesn't have. It's the same inside Germany, where Merkel is seen to be holding the line, keeping the problems at bay, but not actually solving the issues. Merkel's weaknesses will be increasingly exposed, which will only spotlight the need for a leader of Guttenberg's heritage and caliber.
Meanwhile, Guttenberg has engaged in exactly the sort of PR campaign needed to develop his brand. He's been cultivating friends in high places. Earlier this year, news reports surfaced of a meeting he had in the Black Forest with former U.S. President Bill Clinton. He remains close to Horst Seehofer, chairman of the csu. He has a direct line to the European Commission. No doubt he remains in contact with all sorts of important people in Berlin. He's giving occasional speeches, both in America and in Europe.
He's also weighing in on all the top news stories via articles in major news outlets. In August, it was a Financial Times article on Germany's national elections. As the Syria crisis peaked and Germany seemed to waver, Guttenberg took to the New York Times to make the case for greater German leadership. This week, it was an article on German-American relations in the wake of what the German media has dubbed Merkelgate.
Karl-Theodor zu Guttenberg might have been banished from public office, but he hasn't left the public eye—or escaped the public's curiosity.
And now, political, financial and social conditions in Germany and Europe continue to create an intense demand for a strong, capable, inspiring, decisive leader who will actually lead Germany, and Europe, to a brighter, more hopeful place.
Whatever happens, keep an eye on Karl-Theodor zu Guttenberg. And don't assume his absence from German politics means his political star is waning. To the contrary, it's possible Guttenberg has employed a brilliant strategy that could well have put him in an ideal position for a political comeback.