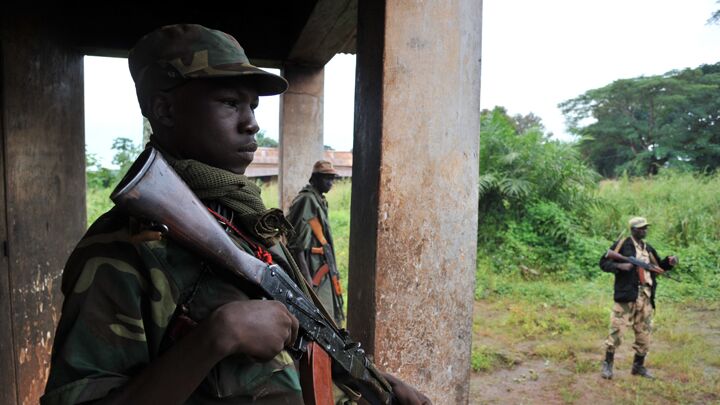 France Prepares for War in the Central African Republic
The Central African Republic teeters on the brink of becoming the next Mali. Is it the next front in Europe's battle with radical Islam for control of North Africa?
As the Central African Republic faces an Islamic takeover, France is planning to send more troops in and is pushing for United Nations intervention in its former colony.
Since the Islamic Seleka rebels took over in March, conditions have deteriorated rapidly, with Muslims and Christians fighting each other. The special report from France 24 graphically portrays the tragedy. (The report begins 2 minutes 30 seconds into the video.)
http://www.youtube.com/watch?v=IxdsVBcF4gE&feature=youtu.be&t=2m30s
Islamic attacks on Christians are increasing. In response, Christians have banded together and been accused of attacking Islamic civilians. As the France 24 report shows, whole villages have been abandoned or destroyed. Rape, murder and machete attacks have become common.
Human Rights Watch confirmed the deliberate destruction of over 1,000 homes between March and June. Boris Heger, one of the two journalists that put together France 24 report, warned that "it will probably take months of investigation to get some credible figures" on how many villages and homes have been destroyed.
Only 15 percent of the country's population is Muslim, but the Islamic Seleka took control in March, putting President Michel Djotodia into power. He replaced François Bozizé, who came to power in a coup in 2003, but went on to win presidential elections, and even received military support from France over the years.
The Seleka rebels include many fighters from Chad and Sudan, so are seen by many in the Central African Republic as a foreign force. Sudan has long links to Chad's rebel groups, making it the major foreign power behind the takeover. President Djotodia ordered the disbanding of the Seleka groups last month, but only after absorbing many of their fighters into the army.
France now fears that the Central African Republic could become a terrorist breeding ground, allowing radical Islam a safe haven in the heart of Africa. Sudan is currently Iran's most important African partner. Iran's Islamists could easily cross the border into the Central African Republic and set up shop there, giving them easy access to oil and other resource-rich parts of Central Africa and the Gulf of Guinea. This also would bring them into contact with military groups in the area.
French Foreign Minister Laurent Fabius held a meeting with European Union and UN humanitarian officials on September 25, where he warned that the Central African Republic "has become a lawless state and in a lawless state, the exactions increase and without any action it can become the refuge of all terrorists." He said that the Lord's Resistance Army from Uganda and the Islamist Janjaweed militia from Sudan had already moved into the area. Fabius warned that the terrorist groups from Mali and Libya and the al Qaeda-aligned Boko Haram from Nigeria could have also already moved into the area.
The EU's Commissioner for International Cooperation, Humanitarian Aid and Crisis Response, Kristalina Georgieva, warned that the country could turn into "another Somalia."
France has submitted a draft resolution to the Security Council, which will probably discuss it on October 10. The resolution would give UN Secretary-General Ban Ki-moon 30 days to submit a report with details of a possible intervention. The Security Council has already approved a request for logistical, technical and financial support from the African Union.
Reuters also reports that France is considering several ways to increase the number of troops it has on the ground. Citing an anonymous diplomatic source, it reports that France may seek a UN mandate to boost its troop numbers to 1,200, or have 750 of its troops work with the surrounding African nations, or replace the soldiers it already has in the country with a rapid reaction force.
France has roughly 450 soldiers stationed there, but their role revolves around protecting the airport; they have done little to intervene in the crisis so far.
France, and all of Europe, is seriously concerned with the spread of radical Islam in North Africa. But Europe is also seriously concerned about national budgets, which is why France hasn't become involved already and why it is trying to work with the UN and African Union as much as possible. With the French presence in Mali winding down, perhaps it feels it can afford another intervention.
This campaign in the Central African Republic is part of a much broader war between Europe and Iranian-led radical Islam throughout North Africa. "Northern Africa is turning into a battleground with enormously important prophetic implications," wrote Trumpet editor in chief Gerald Flurry in the April print edition.
"Iran has designs on being the strongest power throughout the region," Mr. Flurry wrote, "and is extending its reach throughout North Africa. But Iran isn't the only one interested in Africa. Germany is making strong inroads as well. Both of these powers are racing to get as much control of North Africa as they can." Since that writing, North Africa has made bigger and more frequent headlines.
Watch for the clashes between Europe and Iran to increase. It is all part of a conflict that will soon see Europe confront Iran head on.
For more information on the battle playing out in North Africa, read our recent article "Iran's Battle for Africa."