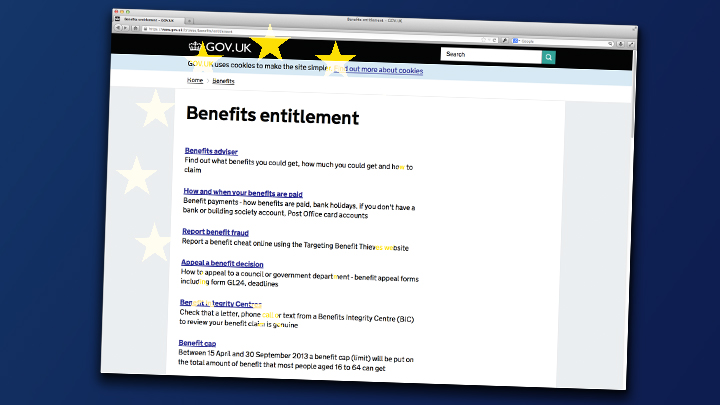 EU Takes UK to Court Over Welfare System
Is the EU trying to make itself more unpopular in Britain?
The European Commission has announced it is taking the United Kingdom to the EU's Court of Justice, claiming its welfare system breaks European Union law by not being generous enough to European immigrants.
In Britain, the concern is the exact opposite—many believe the UK is too generous. The British public's two biggest problems with the EU are immigration and loss of sovereignty. It's hard to think of anything else the Commission could do to make the EU more unpopular in Britain.
"If the Commission wants to push the UK out of the EU, this is definitely the way to go," wrote Mats Persson, director of think tank Open Europe.
Open Europe's research director, Stephen Booth, said, "The European Commission has thrown a hand grenade into an already intense debate about the UK's continued EU membership. At a time when public support for both the EU and immigration are wafer thin, this is the worst possible issue the Commission could have sought to challenge, at the worst possible time."
The Commission has attracted criticism from Britain's entire political system. All of Britain's major political parties want to stand up to the Commission's decision.
"I will fight this every step of the way, I will not cave in, and I will continue to work on strengthening our benefit system in the meantime to ensure it is not open to abuse by anyone," said Conservative Work and Pensions Secretary Iain Duncan Smith.
Labor Shadow Home Secretary Yvette Cooper made similar, though less strident, comments, saying, "The government must strongly oppose any moves to weaken the Habitual Residence and Right to Reside tests."
The European Commission's problem is that Britain doesn't allow EU immigrants to move straight to the UK and claim all the benefits UK citizens receive. Instead, the UK applies a "Right to Reside" test.
Most EU nations operate a welfare system similar in principle to that of the United States. While you work, you pay into the system. The more you pay in, the more you can get out. This makes it impossible for someone to move straight to the country and claim generous benefits.
In the UK, what you get out of the system is not linked to what you pay in. The "right to reside" exists to stop other EU nationals exploiting this and getting money out of a pot they've not paid into.
The EU is already more unpopular in Britain than ever before. Watch for the divide between Britain and the Continent to grow, as the Trumpet has been saying for years.