Could Your Religion Be a Counterfeit?
The trade in counterfeit goods—music, software, clothing, toys, jewelry and, of course, money—costs $150-450 billion each year. But did you know that the greatest deceptions to mankind are the result of counterfeit Christianity?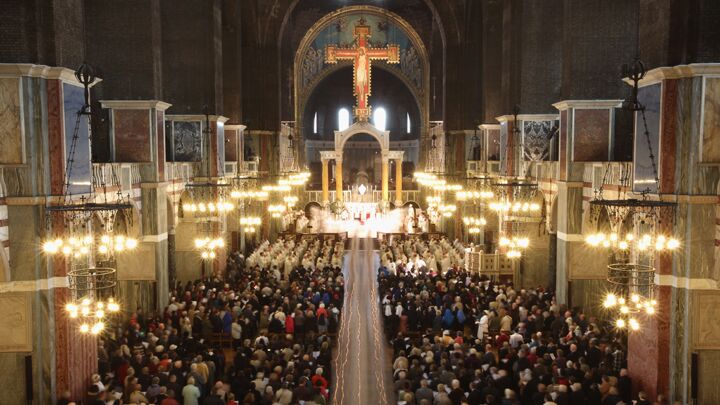 Could Your Religion Be a Counterfeit?
The trade in counterfeit goods—music, software, clothing, toys, jewelry and, of course, money—costs $150-450 billion each year. But did you know that the greatest deceptions to mankind are the result of counterfeit Christianity?
Have you ever received counterfeit money? The millions of people who have, no doubt feel ripped-off, angry, frustrated and suspicious of others for a long time—perhaps even foolish and ashamed of themselves. Those who pawned off the fake money feel excited to have made a quick buck at the expense of some unsuspecting chump.
On the other hand, most people do not think twice about willingly buying counterfeit (or pirated) merchandise. They feel elated by their "savings." They may even brag to others about their luck in finding such a "great buy." Instead of being deceived chumps, these people feel like smart shoppers.
But how do the original manufacturers feel to have knockoffs of Rolex watches selling for less than $50 a piece, Gucci bags running from $5 to $20, or copies of QuickBooks, Microsoft Office and dozens of other major software titles at $5 per copy?
The point is, how we feel about counterfeiting often depends on whether we are on the winning end or the losing end of the transaction. But the fact that we may feel good about a transaction, that we are happy, not deceived by the counterfeit we now possess, does not change the fact that a crime has taken place.
As damaging as material counterfeiting is, there is a far more dangerous and insidious form of counterfeiting occurring on a massive scale—that of counterfeit religion. Could you be a victim?
One Source
Many similarities exist between counterfeit money and counterfeit religion—particularly Christianity.
First, there is only one source for genuine U.S. currency: the U. S. Treasury, as authorized by the U.S. government. Even if a counterfeiter could make absolutely identical bills in every detail, they would still be counterfeit bills because they would lack the authority of the U.S. Treasury and the U.S. government.
The U.S. dollar is the top choice among counterfeiters. It is the most commonly used currency in the world, with more than 60 percent of U.S. dollar bills circulated overseas. There are thousands of counterfeiters scattered all around the world, dumping untold millions of fake bills into circulation. With advancements in technology, counterfeiting has skyrocketed, doubling almost every year.
If everyone honored and respected the laws of the land, there would not be thousands of presses turning out illegal U.S. money taking advantage of millions of people. There would only be the one proper government-approved source for legal money, and almost everyone in the world would benefit.
Likewise, there is only one source for genuine Christianity: Jesus Christ, as authorized by God the Father. Jesus said, "I am the way, the truth, and the life: no man cometh unto the Father, but by me" (John 14:6). He also said, "no man can come unto me, except it were given unto him of my Father" (John 6:65).
Even if someone could mimic the outward characteristics of a true Christian, without the workmanship of God the Father and Jesus Christ, he would still be a fake—a counterfeit Christian.
Christianity is the top choice among counterfeit religion. Christianity is the largest religion in the world: Over 2 billion people (one third of the Earth's population) profess it. With the advent of TV, publishing and other media, the number of counterfeit Christian denominations has multiplied at an amazing rate. According to the World Christian Encyclopedia (2001) there are now over 33,830 Christian denominations claiming to represent Jesus Christ on Earth.
What confusion! Paul said, "God is not the author of confusion, but of peace, as in all churches [congregations]" (i Cor. 14:33).
The night before He was to die, Jesus prayed to His Father, asking that all future Christians "may be one; as thou, Father, art in me, and I in thee, that they also may be one in us …" (John 17:21). Did God the Father answer that prayer? Is there a group of people on Earth living at one with Jesus Christ and the Father?
What does it mean to be one with the Father and with Jesus Christ? Let the Apostle Paul explain: "There is one body, and one Spirit, even as ye are called in one hope of your calling; One Lord, one faith, one baptism, One God and Father of all, who is above all, and through all, and in you all" (Eph. 4:4-6). Paul spent his life "Endeavoring to keep the unity of the Spirit in the bond of peace" (v. 3) among the brethren of his day.
Jesus also said, "[T]he hour cometh, and now is, when the true worshipers shall worship the Father in spirit and in truth …. [T]hey that worship him must worship him in spirit and in truth" (John 4:23-24).
If everyone were worshiping Christ in Spirit and in truth, there would not be over 33,830 denominations; there would be only one unified Church of God, and the whole world would benefit.
Ignorance and Distractions
In the past, counterfeiters relied on two things: The first was ignorance. For example, counterfeiters quickly targeted Ecuador when its government shifted to the U.S. dollar in 2001. Since the people were unfamiliar with U.S. money, many were easily fooled by counterfeit bills.
In addition to ignorance, counterfeiters used to rely heavily on distractions. They would try to focus a person's attention on other things, hoping they would not even check the money before it was too late. Most people were not even on the lookout for counterfeit money, so even if the bills were cheap imitations, the counterfeiters could most often get away with it.
Counterfeit religions do the same thing. They thrive on people's ignorance of the Bible.
Prior to the advent of the printing press, few people even had access to a Bible. Since they were unfamiliar with what Christ had actually taught, the average person became easy prey for a counterfeit religion.
Most people today, even professing Christians, hardly ever read the Bible. Rather than taking the time necessary to learn what the Bible really says and means, they just listen to what others say or preach about the Bible. Most professing Christians do not even attend church regularly, yet almost everyone has strong opinions about God and their own personal beliefs. If it is convenient, they may attend now and then. If they like the congregation, or if the minister is likeable and his sermons are inspiring or confirm what they think they already know, they are likely to go more often.
Counterfeit religions are also skilled at focusing their members' attention on peripheral issues. They most often appeal to their emotions by talking about love and by getting people heavily involved in church-sponsored social events, or even missionary-type activities. If their members feel good about what they are doing, it makes little difference to them what they are being taught. Such people often remain loyal to a counterfeit church no matter what. Even when some are exposed as frauds, it doesn't keep a loyal, but ignorant, few from continuing to support them.
Among those counterfeit churches that do study the Bible, many use only a small portion of it. They constantly refer to pet scriptures that can seem to support their beliefs. Often they have pulled these verses out of context and misinterpreted them, giving a far different impression than what the Bible actually means.
Proverbs 16:25 says, "There is a way which seems right to a man, but its end is the way to death" (Revised Standard Version).
God expects all true Christians to become experts at identifying the counterfeits. Paul explained how a true Christian can do that: "Study to shew thyself approved unto God, a workman that needeth not to be ashamed, rightly dividing the word of truth. But shun profane and vain babblings: for they will increase unto more ungodliness" (ii Tim. 2:15-16).
Skillful Counterfeits
Eventually, counterfeit bills became so close to the real thing that the average person was being easily fooled. Even bank tellers seldom detected the counterfeits. It often took experts to scrutinize the bills with microscopes or other advanced testing devices to know with certainty. Such exact duplicates created severe problems within the banking communities. Besides the money that was being lost, there was also a growing lack of trust and confidence in U.S. currency in many places worldwide.
This forced the American government to update its money using advanced technology. These new features included watermarks, security threads woven into the paper, raised features produced by intaglio printing, and inks that show a different color depending on the angle from which they are viewed. All these procedures will not stop counterfeiters, but it will make it easier to identify the fakes. At least for a time.
While governments often change their money to foil the counterfeiters, God has no need for change. God already has a foolproof way for Him to identify genuine Christians. He places a secret ingredient within each and every one. Romans 8:9 says, "… Now if any man have not the Spirit of Christ, he is none of his." Only God can give the gift of the Holy Spirit. No man is able to counterfeit that!
The sad truth is, every one of the thousands of counterfeit Christian denominations has succeeded in fooling people. Most professing Christians are not even on the lookout for counterfeits. All that most people want is a church that they like. Therefore, even the cheapest imitations are able to fool large numbers of people. But other groups are so close to the truth that it may take careful examination to finally determine that they are fakes.
Notice what Jesus told His disciples shortly before His death: "For there shall arise false Christs, and false prophets, and shall shew great signs and wonders; insomuch that, if it were possible, they shall deceive the very elect" (Matt. 24:24).
ii Corinthians 11:13-15 explains how all but the very elect would become deceived: "For such are false apostles, deceitful workers, transforming themselves into the apostles of Christ. And no marvel; for Satan himself is transformed into an angel of light. Therefore it is no great thing if his ministers also be transformed as the ministers of righteousness; whose end shall be according to their works." Revelation 12:9 prophesied that Satan's deceptions would be so convincing that he would deceive "the whole world." Is it possible that you may be one of those deceived into attending one of Satan's counterfeits?
It's a Crime
People who accept counterfeit bills are being conned out of their hard-earned money. It is a serious crime, but even when a counterfeiter is caught and punished, the people who were conned never recover their loss.
The sad truth is, there are clearly many counterfeit churches in this world, and each one is dumping false and contradictory ideas about what Jesus Christ actually taught. Every person who accepts these false ideas is being spiritually harmed, conned out of a proper relationship with Jesus Christ and God the Father. Many have become disillusioned with religion altogether because they have been "stung" so often by false churches. When and if they do hear the truth, they are so confused, they are not likely to believe it.
Jesus said, "Enter ye in at the strait gate: for wide is the gate, and broad is the way, that leadeth to destruction, and many there be which go in thereat: Because strait is the gate, and narrow is the way, which leadeth unto life, and few there be that find it. Beware of false prophets, which come to you in sheep's clothing, but inwardly they are ravening wolves" (Matt. 7:13-15). Notice, God's Church will have few members. It is referred to in Scripture as a "little flock." The many will not accept God's message.
People who pass counterfeit bills seem innocent enough. So do false ministers—but beware, they will lead you to destruction! Jesus says so.
What About You?
How sure are you of your religion? How did you decide which church you would attend? Could you be in a counterfeit religion? With 33,830 Christian denominations in the world, the chances are very high indeed! Finding God's true Church among all those is like trying to find a needle in a huge haystack. The chances of finding the right religion by accident is zero, so how would someone go about finding the right one?
Just as government officials use certain identifying marks to determine if a bill is real or not, so must we use certain God-given signs to identify the Church that has Jesus Christ at its Head. It takes a spiritual examination of critical identifying signs to do that. No man can find God's true Church based on how he feels or by listening to his own thoughts (Jer. 17:9) or the thoughts of other men (v. 5). Finding God's Church has only to do with what God's Word teaches. It is not enough to believe in Christ—a true Christian will also believe His message and live by every word of God! (Luke 4:4).
What are those signs? Request our free book Mystery of the Ages and read Chapter 6, "The Mystery of the Church"—or read it online at www.theTrumpet.com under Literature—for an in-depth biblical examination of this question. God expects all Christians to "prove all things" from the Bible, and "hold fast to what is good" (i Thes. 5:21). If we do that, we will never be swayed into following one of Satan's many counterfeits.