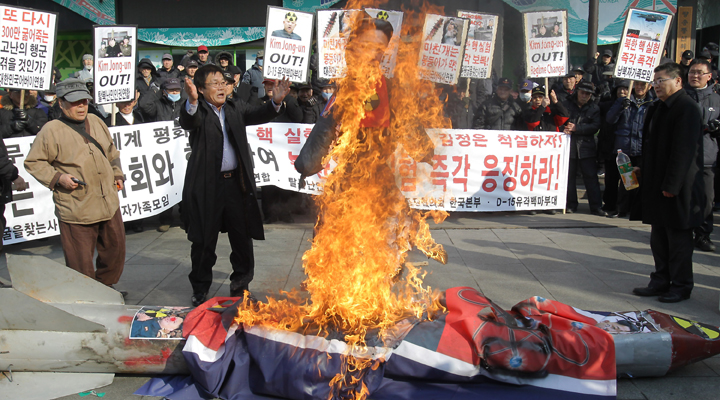 'North Korea, You've Been Bad'
North Korea continues to act without fear of retaliation from the international community.
North Korea detonated a nuclear weapon on February 12 as part of its ongoing nuclear testing. The international community responded with words of condemnation.
nato called it an "irresponsible act."
The United Nations said, "The members of the Security Council strongly condemn this test." It also said it was now considering "appropriate measures."
U.S. President Barack Obama called it a "highly provocative act" and said the danger posed by North Korea "warrants swift and credible action by the international community."
North Korea was not cowed, and responded with some choice words itself. "If the United States continues to come out with hostility and complicates the situation, we will be forced to take out stronger, second and third responses in consecutive steps," it said in a statement through the kcna news agency.
In late January, reports revealed North Korea was testing new rockets designed to hit American soil.
It is remarkable what a stark difference there is in the weight behind the words of North Korea, as opposed to those of the nations that wish to halt its militarization.
North Korea has been backing its words with action. When it has said it plans on testing missiles, it tests missiles. When it says it will not halt its nuclear program, it doesn't halt it. When North Korea informs the U.S. in advance that it will conduct an underground weapons test, it follows through.
In contrast, the most militarily powerful nations in the world warn, condemn and complain. They express regret and concern and thump podiums.
To what effect? The nuclear explosion speaks for itself. Despite one third of children in North Korea thought to be malnourished, the government of Kim Jong-un still orders nuclear testing.
There is a vicious cycle occurring. North Korea conducts its military tests, the West slaps more sanctions on the already impoverished nation, and then North Korea announces more tests in retaliation to the sanctions.
Diplomacy with Kim Jong-un is failing. The United States has been busy upping its presence in the Asia Pacific region. If the U.S. wants to play a bigger role, this would be a good place to start. However, judging from history, all we can expect is a barrage of words and a series of slaps on the hand. To see where this cycle is leading in Asia, read Russia and China in Prophecy.