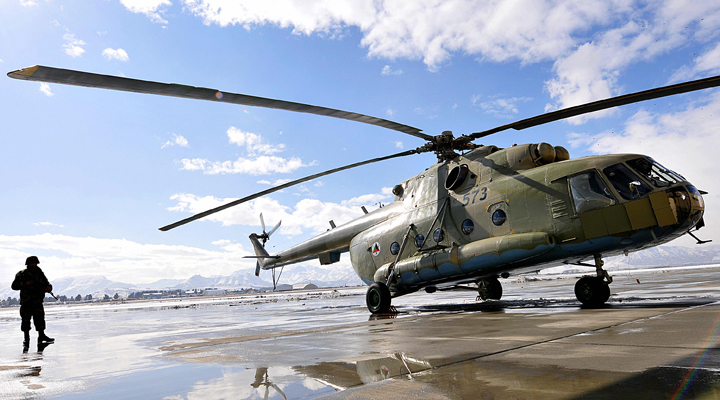 Russia and India Sign $3 Billion Weapons Agreement
India agreed Monday of last week to buy $2.9 billion worth of Russian military equipment, as Russian President Vladimir Putin paid a visit to the longtime Kremlin ally. The quantities at play here mean these transactions are, literally, a big deal—It's the equivalent of one fifth of Russia's total defense sales in 2011.
The agreement says India will buy kits to assemble 42 Sukhoi-30 fighter jets for $1.6 billion, and 71 Mi-17 military helicopters for $1.3 billion. Russia has custom designed the jets specifically for India, and they are engineered to become the very backbone of the nation's air force. Russia and India have also recently collaborated on a supersonic missile for the Sukhoi-30s, and India is rumored to be equipping this jet to deliver its nuclear weapons.
Civilian trade between Russia and India is also thriving. Since 2000, it has increased by 600 percent, and though growth has slowed some in recent years, Mr. Putin aims to accelerate it once again. Total annual trade for 2012, for example, is expected to be around $10 billion, and Putin wants this figure to rise to $20 billion by 2015.
As these last weeks' deals —and the broader trends—show, the military ties between Moscow and New Delhi run deep. At last Monday's meeting, Mr. Putin and Indian Prime Minister Manmohan Singh praised the accelerating military cooperation between the two nations, which marks a stark contrast from the pattern of earlier years when India sought to Westernize its military assets following several setbacks with Russian arms deals. New Delhi's return to Moscow for weapons represents a significant economic loss for the Western nations that had previously enjoyed India's business. And the indications are that Russia-India ties will continue to strengthen in the years ahead.
China and Russia are the regional behemoths driving the biblically prophesied cooperation of Eastern powers, which the Trumpet has been monitoring and reporting on for decades. India could play a role in this Oriental group, as well. To understand the significance of this Asian cooperation, and how it is connected to the most inspiring and hope-filled event that Earth has ever seen, read Russia and China in Prophecy.