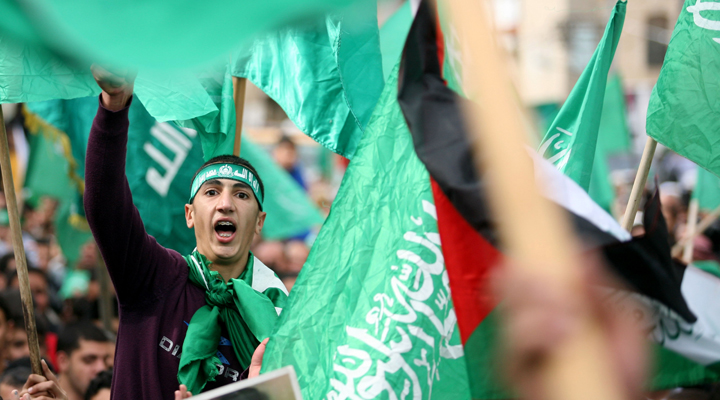 Hamas Sets Its Sights on the West Bank
Palestinians in the West Bank are taking note of what Gazan rulers have achieved by attacking Israel.
Last week, thousands of Hamas supporters waving green flags marched through Hebron and Nablus in what some called an outbreak of the Arab Spring in the West Bank. During this peaceful but powerful show of force by Hamas, Palestinian security forces simply stood by.
On December 9, the Associated Press reported that Israel is concerned a third intifada might soon erupt in the West Bank. A quick review of the more recent developments in that region proves that its concern is not without cause.
First, there was the eight-day war between Israel and Hamas in November. Hamas not only survived that battle with its infrastructure intact, it emerged from the war with newfound clout across the region and more popularity than ever before within the Palestinian community.
Then on December 7, hundreds of thousands of Palestinians swarmed the streets of Gaza in celebration of Hamas's 25-year anniversary. During the celebration, Hamas welcomed home its exiled leader, Khaled Mashaal. It was the first time Mashaal had ever been to Gaza, which in itself shows how confident and strong Hamas now is.
As Stratfor wrote December 13, "The most telling sign of Hamas's new confidence is Mashaal's visit to Gaza. It was the leader's first visit to any Palestinian territory since he left the West Bank after the 1967 Arab-Israeli War, and it was his first ever visit to Gaza. … A sympathetic administration in Cairo and the ceasefire that ended the Gaza war in November created the right conditions for Mashaal to visit. The visit follows Hamas's attainment of recognition from regional players, including Qatar, Jordan and other Arab capitals, after the group decided to end its relationship with Syria."
In several speeches over the course of that weekend, Mashaal praised Hamas militants for standing up to Israel and repeated the movement's founding goal of wiping Israel off the map. "God willing, we shall liberate Palestine together, inch by inch," Mashaal said. "We started this path and we are going to continue until we achieve what God has promised."
In the West Bank, controlled by the supposedly more moderate Palestinian Authority, there was no public condemnation of Mashaal's diatribe. In fact, the Palestinian Authority allowed a Hamas rally in Nablus on the anniversary day.
Then there was the scary moment in Hebron earlier this month when Israeli soldiers on routine patrol had to seek refuge inside a butcher's shop, of all places, to avoid confrontation with an angry mob of Palestinian protesters. After showing footage of the incident, an Israeli news station asked if Israel might be in the early stages of a third intifada.
Add all of this to the United Nations' recent decision to upgrade the status of the Palestinian Authority to a "non-member observer state," and it makes for a dangerous mixture of events.
The bottom line, as Israel Hayom's editor in chief Amir Mizroch wrote on December 9, is that things in the West Bank are changing—and fast! According to Mizroch, the Palestinians have seen what Gaza's rulers have achieved by standing up to Israel and now they want change too.
The Jerusalem Post recently reported that Hamas is working to reactivate its sleeper cells in the West Bank. That was followed by a report the Sunday Times released this weekend warning of a Gaza-style Hamas takeover of the West Bank. According to Israeli military intelligence, Hamas political chief Mashaal has called upon his supporters in the West Bank to prepare for a takeover.
"Israeli Prime Minister Benjamin Netanyahu has been warned by his intelligence services that the Islamist group Hamas could seize power in the West Bank, just as it did in Gaza five years ago," the Times wrote. "According to military intelligence, there are strong indications that Iran is encouraging Hamas to replace Fatah, the more moderate party led by Mahmoud Abbas, the president of the Palestinian National Authority."
Senior Fatah member General Tawfiq Tirawi told the Times, "We're on the verge of catastrophe. Hamas wants intifada (an uprising) and now only a spark is needed to light the inferno. Hamas will take over the West Bank."
The Times of Israel wrote, "A source close to Prime Minister Benjamin Netanyahu told the paper that the prime minister is maneuvering to halt Iran and Hamas from gaining dominion of the territory."
To make matters worse, according to a recent survey by Jerusalem-based pollster Khalil Shikaki, 48 percent of people in the West Bank back Hamas's leader in Gaza, Ismail Haniyeh, while only 45 percent support Mr. Abbas.
Stratfor wrote, "In the West Bank there is a general disappointment with Fatah and its governance. There are signs of frustration and of a loss of faith in Fatah, and the West Bank Palestinian leadership is seen as geriatric, corrupt and ineffective. This creates an opening that Hamas can exploit." Due to the religious and political alignment of many people in the West Bank, Stratfor goes on to point out, there is plenty of political space for Hamas to exploit in the West Bank.
Now notice what we wrote at theTrumpet.com back in August of 2008: "The Arabs of the Fatah party currently control the West Bank. However, Hamas terrorists (and weapons) are present throughout the West Bank and there is little doubt that they are working toward getting control of this strategic region of Israel."
And looming behind all of these proxies, as we have said all along, is the head of radical Islam, Iran. Our article continued: "Iran's ultimate goal is to overrun Jerusalem. The West Bank adjoins the city. The Iranians believe that if they can conquer Jerusalem, they can unite the Arab world under their control."
If you haven't done so already, make sure you read online or request The King of the South.