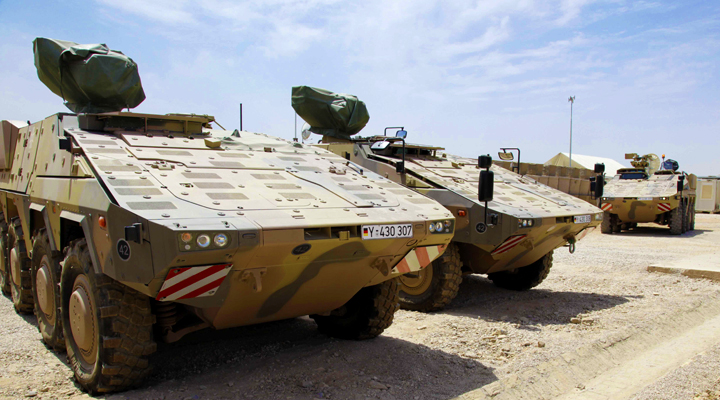 Germany Considers More Arms for Saudi Arabia
Hundreds of Boxer armored troop transporters could soon be on their way to Riyadh.
Saudi Arabia has officially requested Germany's permission to buy several hundred of its Boxer armored vehicles, Der Spiegel reported on December 2. Germany's Federal Security Council considered the purchase on November 26, but postponed a decision until next year, Spiegel claims.
"The Boxer is one of the most modern battle vehicles in the world," writes Spiegel. "It can be equipped with a remote-controlled weapons station or converted into a mobile surgical unit. The Bundeswehr uses the Boxer in Afghanistan as an armored personnel carrier." Saudi Arabia wants them for its Royal Guard, whose main job is to protect the royal family.
"The addition of Boxers … would provide the Guard with international state-of-the-art equipment," writes Spiegel.
But Spiegel points out that "Boxers are also well suited for suppressing uprisings, particularly because their tires make them useable on roads." If riots broke out in Saudi Arabia, "one scenario could involve units loyal to the royal family fighting revolting crowds with German tanks," it wrote.
If approved, this deal would deepen the already strong arms links between Germany and Saudi Arabia. The latter is already planning to buy 270 German Leopard A7 tanks—one of the most advanced tanks in the world.
Germany is using its arms industry strategically to build up the enemies of Iran and create an alliance for itself in the Middle East. Spiegel wrote:
German high-tech weapons are a hot commodity among Arab potentates and other autocrats. They haven't failed to notice that the coalition government of Chancellor Angela Merkel's center-right Christian Democratic Union (cdu) and the pro-business Free Democratic Party (fdp) has steadily relaxed Germany's otherwise restrictive arms export policy ….The numbers suggest that the Merkel doctrine is beginning to have its effect. In accordance with the chancellor's wishes, Germany is now sending soldiers to conflict zones in emergency situations only. Instead, "partner countries" in the affected regions are to be strengthened through arms exports to handle the job of maintaining peace and security on their own.
This German strategy is one the Trumpet has written about extensively. For more information on it, read our article "Next in Line, Please" from the December print edition of the Trumpet.