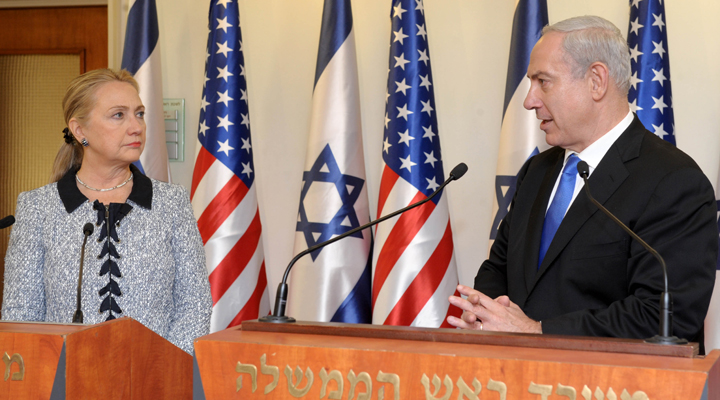 U.S. to Israel: That's Enough
Obama administration reverses itself on 'Pillar of Defense.'
When Prime Minister Benjamin Netanyahu launched Operation Pillar of Defense last Wednesday, Washington was quick to publicly back Israel's right to defend itself. Since then, Israel has knocked out hundreds of terrorist targets in the Gaza Strip with a series of extremely precise air strikes.
After a few days of surgical strikes, however, President Obama's support for the operation started to wane. During a press conference on Sunday, the president said that while Israel had a right to defend itself, he would prefer that Israel not send in troops.
Following that, on Tuesday, Secretary of State Hillary Rodham Clinton abruptly left Cambodia, where she was accompanying the president on his tour of Asia, to take a more active role in negotiating a ceasefire between Israel and Hamas.
"President Obama's decision to send his top diplomat on an emergency Middle East peacemaking mission Tuesday marked an administration shift to a more activist role in the region's affairs," the Washington Post wrote. "Clinton's peacemaking trip is Obama's clearest signal yet to Israel that it should begin to pull back its campaign against militants in the Gaza Strip. The administration knows that with Clinton on the ground trying to resolve the crisis, it will be harder for Netanyahu to make good on his threat to invade Gaza" (emphasis added).
Today, a few hours after Hamas celebrated the bombing of a bus in Tel Aviv, Prime Minister Netanyahu announced that Israel had agreed to the terms of a U.S.-brokered ceasefire. He encouraged Israelis to "return to their normal routine."
Shortly after he made that announcement, according to Channel 2 in Israel, there were numerous victory demonstrations in both Gaza and the West Bank. As radical Islam prepares for its next round of war with Israel, we can expect Israel to look somewhere other than America for help in fighting the spread of radical Islam.
The Trumpet has long maintained, based on prophecies in Zechariah 11:14 and Hosea 5:13, that Israel would eventually lose its longstanding support from the United States, which will, in turn, lead to Israel's desperate request for German intervention.