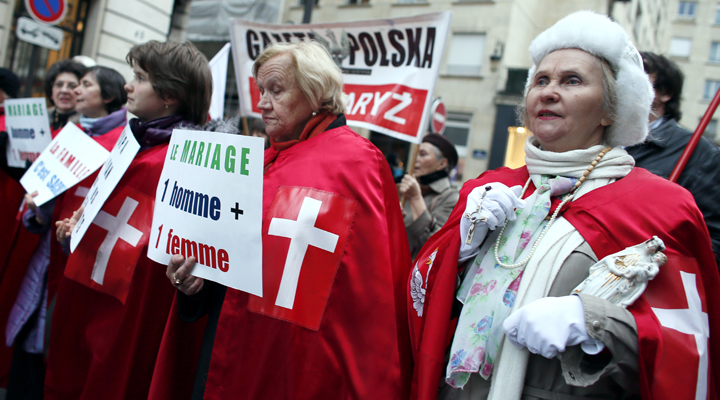 Catholic Church Leads Mass Protests in France Against Homosexual 'Marriage'
Over 100,000 demonstrators joined protests organized by Catholic groups to oppose the introduction of homosexual "marriage" in France over the weekend. Backed by the Catholic Church and attended by Catholic clergy and bishops, the protests rallied against French President Francois Hollande's decision to back plans to legalize homosexual "marriage" and adoption next year.
On the day of the biggest protests, November 17, Pope Benedict xvi gave his implicit support. He told French bishops visiting the Vatican that day that "the voice of the church must make itself heard relentlessly and with determination."
Cardinal Philippe Barbarin from Lyon joined the protesters, as did the archbishop of Toulouse, Robert Le Gall.
On the same day, Catholic, Protestant, Jewish and Muslim leaders urged the government to allow more time for debate, in an article in Le Monde.
Seventy thousand gathered in Paris on November 17 in the largest demonstration in the country, with thousands rallying in other cities, according to police estimates. The Catholic group Civitas organized a smaller protest, attended by 9,000, in Paris on the 18th. More extreme groups attended this protest, including the far-right National Front and the local leader of the Society of Saint Pius X—the Catholic breakaway group. There were several reports of clashes between these demonstrators and pro-homosexual "marriage" counter-protesters.
Earlier this month, France's cabinet approved plans to legalize homosexual "marriage" and adoption, and the bill will be discussed in parliament in January. Recent polls show that the majority in France support homosexual "marriage." But support for adoption by homosexual couples lacks popular approval. The marches focused on this aspect of the law—with the slogan "one father + one mother for all children."
The protests come after the United States took significant steps toward homosexual "marriage" at the ballot box.
On this, and other issues, Europe has been just as liberal, if not more so, than the U.S. Despite similar protests, France introduced civil partnerships several years ago.
But the Catholic Church is a lot more popular and powerful in Europe than in the U.S. While America continues on the path away from traditional values, watch for the Catholic Church to play a leading role in changing Europe's direction.