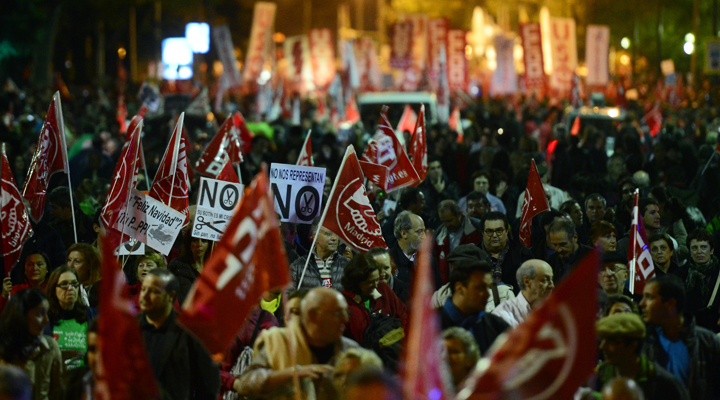 Spain, Portugal, Italy and Greece Protest Austerity
Hundreds of thousands of workers took to the streets as part of a "European day of action and solidarity," organized by the European Trade Union Congress (etuc), on November 14. Unions in Spain and Portugal held a general strike. Eighty were arrested in Madrid as protests turned violent, and police used rubber bullets in Milan and Rome.
The etuc claimed it was the first time four European countries held coordinated strikes.
Headcounts at protests varied wildly. Organizers claimed that over a million protested in Barcelona. Authorities said it was 50,000. Unions claimed 350,000 in Madrid, but the government said it was 35,000. The official figures are usually more accurate.
"General strikes, in which labor leaders call on workers across industries to walk off their jobs, are relatively rare in most European countries, save for Greece, which has had 29 of them since the start of Europe's economic crisis," wrote the Wall Street Journal. "Portugal has had four and Spain three."
In Spain, unions claimed that in some sectors over 85 percent of workers participated in the strikes. Around 800 flights were cancelled. Public transport was limited or stopped completely. Schools and hospitals scraped by with the minimum number of staff. Union membership in Spain is heavy in some sectors and light in others, meaning that while parts of the economy shut down completely, others kept going close to normal.
Greece held a 48-hour protest against austerity last week. This time Athens was relatively calm, with 10,000 protesting. But in Thessaloniki dozens of protesters broke into a conference center to protest the presence of German officials at a meeting of Greek and German mayors. The crowd chanted things like "Nazis out" and "This will not pass," and threw coffee on a German diplomat.
In France, unions organized protests in over 100 cities, but did not call for strikes. In Belgium, strikes disrupted international rail services.
Battles between protesters and police broke out in several cities. Seventeen police officers were wounded in Italy. Twenty activists beat a police officer with baseball bats in Turin. A crowd of youths threw stones and bottles and smashed cars in Rome. Protesters outside Portugal's parliament in Lisbon threw rocks at police.
The economic crisis is putting huge social pressures on southern Europe. In Spain and Greece, unemployment is above 25 percent. As the economic crisis worsens, this social pressure will get worse.
As Trumpet editor in chief Gerald Flurry wrote in 2009, "Social unrest and riots will eventually force Europeans to succumb to a strong united government of Europe, led ultimately not from Brussels, but from Berlin."