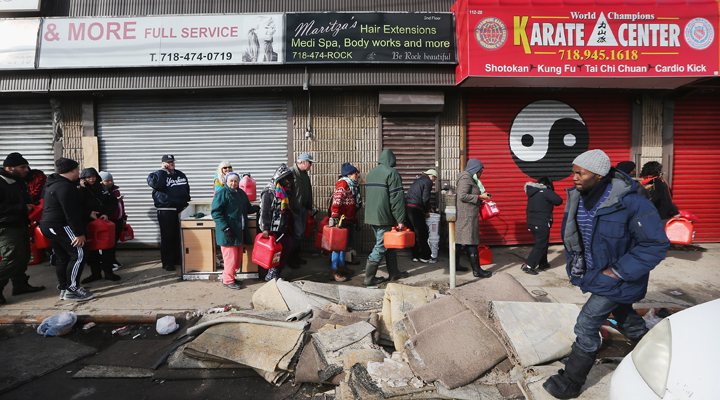 Nor'easter Disrupts East Coast Recovery
Just one week after the devastation caused by superstorm Sandy, East Coast residents are forced to deal with another troublesome storm.
Just a week after getting blasted by superstorm Sandy—the so-called "storm of the century"—the East Coast is enduring another blast of bad weather: a nor'easter nicknamed Athena.
Early this week there were still over 1.3 million people without power across the eastern seaboard. Many of those are in New York and New Jersey, which took the brunt of Sandy. The superstorm created an estimated $30-50 billion in total economic damages. The widespread power outages have also choked the gasoline supply—no power, no pumps. Meanwhile, sanitation crews have been working 12-hour shifts in order to clean out all of the trash created by the storm.
But now a nor'easter is adding insult to injury and slowing down the recovery efforts.
Starting Wednesday night, bitter winds and freezing rain hit the coast from New Hampshire to Connecticut. New York and New Jersey were the first to feel the storm, which dumped a thick covering of wet snow, even setting records in certain parts of New York. The weight of the snow plus the 50-55-mph winds snapped trees that were weakened by Sandy and downed power lines, leaving hundreds of thousands of residents in the dark yet again. New Jersey reported around 160,000 new power outages Thursday morning. New York City and Westchester County reported an additional 55,000 new power outages, and Long Island had 60,000 new outages in addition to the 300,000 customers already without power after the Sandy.
Airlines at the major airports were finally starting to come back on track this week after about 20,000 cancellations in the last week or so, but were forced to cancel over 2,000 flights over Wednesday and Thursday.
Residents in the areas hit hardest by the recent superstorm, like New Jersey and Staten Island, are somewhat disheartened by the setback. One Staten Island resident complained on Twitter that his son just had power restored at his home, and then two days later it was back off again. New York Gov. Andrew Cuomo and New Jersey Gov. Chris Christie have been working to get momentum behind the restoration of power to those still without electricity, even flying in utility crews from California to help out. But the new storm has hampered the progress.
Normally nor'easters don't pose much of a problem, but the region is in a severely weakened state in Sandy's aftermath. It seems to just be one thing after the other. "I'm waiting for the locusts and pestilence next," joked Governor Christie.
Destructive weather patterns are one of the curses that the United States and the other modern descendents of ancient Israel are facing. Our free booklet Why 'Natural' Disasters? explains why these catastrophes are happening and why they are increasing.