Egypt Rejects Handover of Islands to Saudi Arabia, Foreshadowing 'Iran Pivot'
On January 16, an Egyptian court rejected a plan by President Abdel Fattah al-Sisi to transfer control of two Red Sea islands to Saudi Arabia, a move which some analysts say could set the stage for Egypt to make an "Iran pivot."
Last April, during a visit by Saudi King Salman bin Abdulaziz al-Saud, President Sisi signed a maritime demarcation deal that shifted the Egypt-Saudi border in a way that positioned the uninhabited islands of Tiran and Sanafir in Saudi waters. This essentially transferred their control from Egypt to the Saudi kingdom.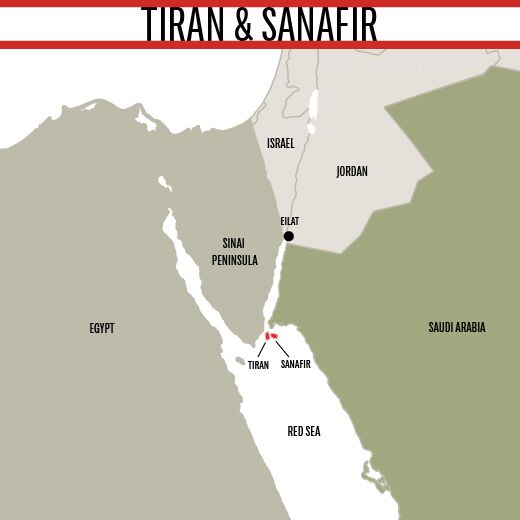 The islands, less than five miles from both Egypt and Saudi Arabia, are strategically valuable because their position at the mouth of the Gulf of Aqaba grants them control of the sole ocean route to Jordan's seaport of Aqaba and to Israel's seaport of Eilat.
The move was seen as a gift from Sisi to the Saudi regime, which has pumped tens of billions of dollars in financial aid into Egypt in recent years. The New York Times called the transfer plan a "show of gratitude" for the Saudi kingdom's support. But the news prompted widespread public outcry among Egyptians who say the islands are an integral part of Egypt.
In June, an administrative court ruled that Sisi's border demarcation deal was illegitimate, and that both islands should remain under Egyptian control. The verdict issued on Monday upheld this June ruling with a final decision that cannot be appealed by any administrative court. Egyptians celebrated the court's decision:
https://twitter.com/LunaSafwan/status/821270047968657409
Saudi Arabia, however, is angered by the ruling, which adds fresh strain to the already tense ties between Cairo and Riyadh. Back in October, evidence of the tensions was abundant when Saudi Arabia halted its oil shipments to Egypt for an "indefinite" duration. Reuters said the move suggested a "deepening rift" between the two nations.
Egypt's decision to reject the island transfer will further deepen this rift, and could prompt the Egyptians to boost ties with Saudi Arabia's main political rival. On Monday, ZeroHedge said the Egyptian court's decision could be "setting [the] stage" for Egypt to make an "Iran pivot."
After asking which nation Egypt may look to for oil if the court's decision adds overwhelming strain to Egypt-Saudi ties, ZeroHedge said:
We hinted at the answer in November, when we reported that [Egyptian] Oil Minister [Tarek] El-Molla said that he is in negotiations with Iran, Saudi Arabia's sworn political rival, to try to strike new oil deals, hinting that Egypt may be the latest to join a fledgling Mideast axis which includes Iran, Syria, Russia and perhaps, Turkey. … It has yet to be confirmed if, indeed, Egypt—whose Suez Canal has critical geopolitical importance—has pivoted away from a Saudi sphere of influence (and oil supplies), and into that of Iran.
As the report notes, such an Egyptian pivot is not confirmed. And the January 16 court decision may not end up being a deciding factor that causes such a pivot. Nevertheless, the Trumpet expects Egypt to break ties with Saudi Arabia and pivot into Iran's sphere of influence. To understand why, read Trumpet editor in chief Gerald Flurry's article "Iran-Egypt Alliance Prophesied."