President Obama's 'Worst Mistake'
During the lightning round of his interview with United States President Barack Obama on Sunday, Fox News host Chris Wallace asked what the president considered his "worst mistake." His response wasn't intervening in Libya; it was intervening in Libya without a plan for the aftermath.
In his own words, President Obama said his worst mistake was "probably failing to plan for the day after what I think was the right thing to do in intervening in Libya."
It's only recently that the Obama administration has publicly acknowledged its failures in Libya—now that the reality is painfully clear for all to see. When the U.S.-led intervention in Libya resulted in the deposition and eventual death of Muammar Qadhafi in October 2011, the administration wasn't soul-searching for a "day after" plan for Libya—it celebrated. Then Secretary of State Hillary Clinton considered the intervention one of her biggest accomplishments. Speaking of Qadhafi, she joked to cbs News: "We came. We saw. He died."
The administration wasn't lamenting its lack of a plan in Libya immediately before and after the Benghazi attack in September 2012. Neither did it decry its legacy in Libya when the U.S. was compelled to evacuate from its Benghazi consulate and from its Tripoli embassy in July 2014. A month later, a coalition of Islamist militants, Libya Dawn, hosted a pool party at an evacuated residential annex of the United States Embassy in Tripoli.
Libya has been a failed state for years. It has two rival governments based in two different cities, Tripoli and Tobruk.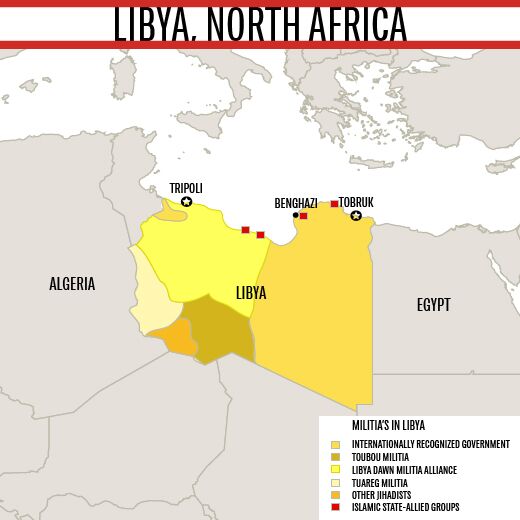 It has been only recently—after Islamic State steamrolled into Libya to take advantage of the lawlessness—that President Obama acknowledged what a "mess" the country is. In fact, privately, he called Libya a "[expletive] show." But in a recent interview with the Atlantic, the president heaped much of the blame for the Libyan chaos on European leaders who convinced him to lead the 2011 invasion. He called them "free riders" who failed to see the mission through because they were unwilling to "put any skin in the game." Given Libya's proximity, President Obama expected Europeans to be more "invested in the follow-up."
Speaking during a bbc interview, President Obama said, "That's a lesson I now apply when we're asked to intervene militarily. Do we have a plan for the day after?"
This doesn't mean that the United States should not intervene in the world's hotpots, because it has been American intervention that has helped preserve peace in our chaotic world over the years.
https://soundcloud.com/trumpetdaily/is-this-really-televisions-golden-age#t=3:58
(Click here to listen to excerpts from bbc's Inside Obama's White House documentary.)
But today, the United States faces a debilitating leadership crisis and a dangerous lack of willpower to see through world problems. A sustained, resolute plan of intervention in Libya would have helped the nation—just as it would have helped in Syria, Iraq or Afghanistan. But intervention or no, every geopolitical mistake the United States makes will have huge consequences. In the bbc's Inside Obama's White House, Libyan opposition leader Mahmoud Jibril explained that "when Obama came out and he did not protect [Egyptian President] Hosni Mubarak, that was very inspiring."
America's failure to intervene in the Arab Spring in Egypt inspired the Arab Spring in Libya, Syria and other nations. And the failed intervention in Libya is now dissuading the United States from intervening at all in Syria and other crisis-ridden nations. The ultimate consequence of these mistakes will be a dramatic rebalancing of power in the Middle East, as our article "What Happens After a Superpower Dies?" explained.