Results of Largest Election in Human History Mean India-Russia-China Ties Will Advance
More people voted in India's election than there are in all of Europe. The result will shift global power from Occident to Orient.
After five weeks, and more than 800 million ballots cast, the largest election in the history of mankind ended with a landslide win—announced on Sunday—for India's opposition Bharatiya Janata Party. The bjp is now set to form a new government under Hindu nationalist Narendra Modi.
Modi's mammoth victory means he has something no ruler of India has had for over 30 years: an absolute majority in the lower house of Parliament. This gives him powers his predecessors could only have dreamed of—and the indications are that he will use it.
"Good days are coming," Modi said in a victory speech. "The journey has started."
This "journey" holds great geopolitical significance because Modi's history indicates that it will be one that steers India away from the United States and nearer to Russia, China and other Asian states.
Away From the West
In 2005, the United States government revoked Modi's visa on the grounds that he had played a role in one of India's bloodiest episodes of religious violence. The violence had taken place in the state of Gujarat, where Modi worked at the time as chief minister. Hindu rioters there killed more than 1,200 Muslims and forced another 150,000 to flee their homes. Modi was accused both of encouraging the violence and failing to stop it. His involvement was never proven, but the U.S. slapped sanctions on him, and the European Union quickly followed suit.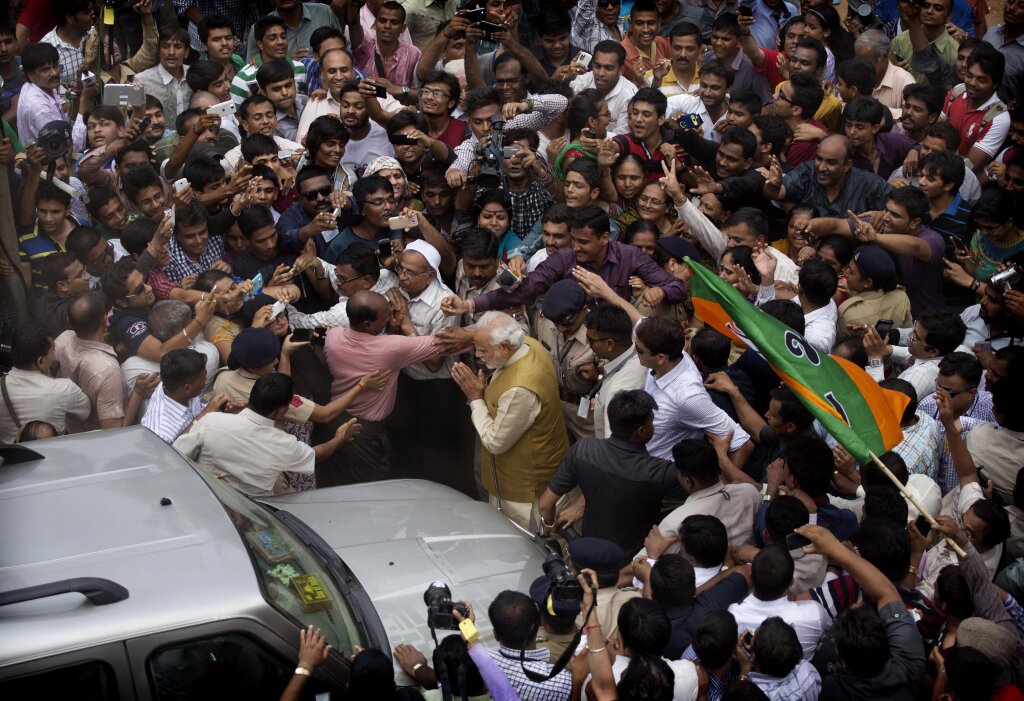 Nearer to the East
Modi responded to the Western snub by looking east. Ever since, he has been making friends and forging alliances with China, Russia, Japan and other Asian countries. The South China Morning Post explains that his win represents a bane to the U.S. and a boon for Eastern powers:
Over the years, China and Modi have invested heavily in each other and forged a bond that could have far-reaching ramifications not only for Sino-Indian relations, but also for the U.S. 'Asia pivot' strategy at a time when territorial disputes in the South China Sea are taking a violent turn. … Modi is also known to have an Eastern bias, with Asian nationalism forming the core of his world view. Apart from China, that also draws him closer to Japan and Singapore, with whose leaders he has struck up a similar rapport. … Modi's unimpeachable conservative background and open admiration for China has in the past raised hopes of him becoming a sort of Indian Richard Nixon."
India's Putin?
Nixon is not the only world leader Modi has been compared to. The Diplomat called him "India's Shinzo Abe" because some of his nationalistic leanings mirror those of the Japanese prime minister.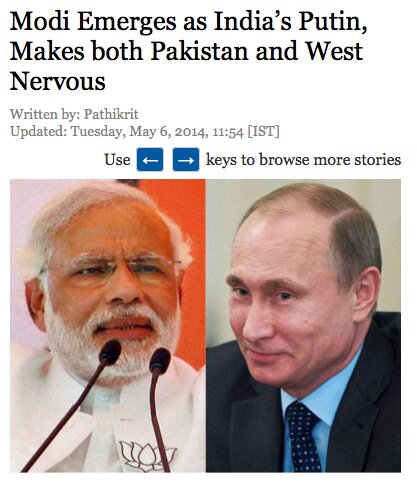 India's Economic Times reported that, "Many Chinese officials who have dealt with Modi compare him to their present boss Xi Jinping."
OneIndia News skipped right to the chase, likening Modi to Asia's big man himself. He is "India's Putin," the publication wrote. His heavy handed leadership "may revive India as Putin did in Russia [because] Modi has similar Putin-like capability to metamorphose India into an economic and military powerhouse through a series of tough measures and steps which would help India leverage and unleash its real potential," it said.
Hopeful Neighbors
Modi joins a group of Asian strongman leaders who have been rising to power or consolidating power as U.S. influence in the region fades. Most of Modi's fellow strongmen seem to welcome him as the newest participant in their shared quest to shift global power from Occident to Orient.
The Chinese could not be more delighted that Modi was elected. "This has caused worries from the West," China's state-run Global Times wrote. "Western countries like the U.S. hope to use India to counterbalance China, but they don't support India on issues of the country's core interests."
The Times went on to explain that Washington's Trans-Pacific Partnership excludes India, which has prompted the Indians to strengthen "coordination with emerging countries such as China and Russia over a spectrum of global issues. … The U.S. is particularly upset with the enhanced strategic cooperation among China, Russia and India."
China and India continue to bicker over such issues as border disputes, bilateral trade imbalance and Beijing's alliance with India's nemesis, Pakistan. But under Modi, these tensions could well abate. This fall, Chinese President Xi Jinping is scheduled to visit Modi in India, which could hasten this abatement.
Russia, too, welcomes its longtime ally's ascension to power. Vladimir Putin said Monday that he hopes that he and Modi can push Russia-India ties to new heights, just as the two nations did last time the bjp was in power. India has long been the world's largest importer of Russian weapons, and recently signed a deal with Moscow to significantly boost India's consumption of Russian gas and oil. Under Modi, such initiatives will multiply.
Moscow's state-funded RT said that under Modi's administration, Russia and Japan will be India's main players: "These two countries will be the most important in the entire world from the perspective of the Modi government. The Modi administration will deepen ties with both: Russia to counterbalance the United States and Japan to counterbalance China. The Modi-led India should also see a huge fillip in trade and economic ties with these two countries."
Mr. Modi took to Twitter to publicly thank Putin and to echo his hopes of ushering in a new age of Russo-Indian cooperation:
https://twitter.com/narendramodi/status/468295338961293313
2014 has been tumultuous. And perhaps the most significant occurrence was the decision by both India and China to support Russia's bullying of Ukraine and takeover of Crimea. In Vladimir Putin's March 18 address to the Duma, he singled out these two nations to thank them for their support. "[W]e are grateful to all those who understood our actions in Crimea; we are grateful to the people of China, whose leaders have always considered the situation in Ukraine and Crimea taking into account the full historical and political context, and greatly appreciate India's reserve and objectivity."
In the May-June issue of the Philadelphia Trumpet, editor in chief Gerald Flurry discussed the significance of the support India and China have shown to Putin: "These Asian powerhouses have made clear that they support Putin. … When these Asia nations—extremely powerful nuclear-armed countries—begin to show solidarity with each other regarding moves like that, what does that portend for the world? I tell you it is woe to the world."
With Modi now in power, India's support of Russian aggression could greatly increase, and the same may be true of India's stance on the increasingly belligerent behavior China is displaying toward many of its neighbors. The rising cooperation between these nations represents a deep geopolitical shift, and, as Mr. Flurry said, it portends woe to the world. To find out why, read our article "Czars and Emperors."