Will 2023 Bankrupt Europe's Businesses?
Economic pain will have political consequences.
Is a wave of bankruptcies about to rock Europe? This is the question raised by new data on business closures published by Eurostat on February 17. Some economists argue that the economy is returning to its normal pre-covid cycle, while others are concerned that the spike in bankruptcies is only the beginning of a longer, more painful trend. Though speculations abound over Europe's economic future, the Trumpet continues to highlight one basic economic certitude.
A Return to Normal?
Across Europe, total bankruptcies rose by 26.8 percent from the third to fourth quarters of 2022, according to Eurostat. This is the largest increase since the start of data collection in 2015.
France and Spain were hit particularly hard. In Spain, bankruptcies rose by 59.5 percent between the third and fourth quarter of 2022. In France, business consultancy Altares noted that declarations of corporate bankruptcy increased by 51.6 percent from 2021 to 2022, a new record for the country. The Bank of France published data on February 15 showing that 42,640 businesses closed between February 2022 to January 2023, compared to 28,124 from 2021 to 2022.
During 2019, one year before the lockdowns and government subsidies, 51,145 businesses closed. Some economists argue that the current spike in bankruptcy is simply a normalization. In other words, these figures would mean the economy is returning to its pre-covid cycle, when businesses are created and closed at a high rate. However, a closer look reveals that this may not be the full story.
The Bank of France also noted that the "temporary modification of the dates for characterizing and declaring the state of cessation of payments," or insolvency, had an impact on the data. It also cited "the public cash support measures that made it possible to avoid this state of cessation of payments" as influencing the data (Trumpet translation throughout).
Businesses in Debt
In the EU as a whole, transport and warehousing saw insolvencies spike by 72.2 percent between the third and fourth quarter of 2022. Hotels and restaurants have also been deeply affected by inflation and rising energy costs: This sector saw an increase of 39.4 percent over the previous quarter. A look at the graph shows a strong upward trend of insolvency in nearly all the industries measured.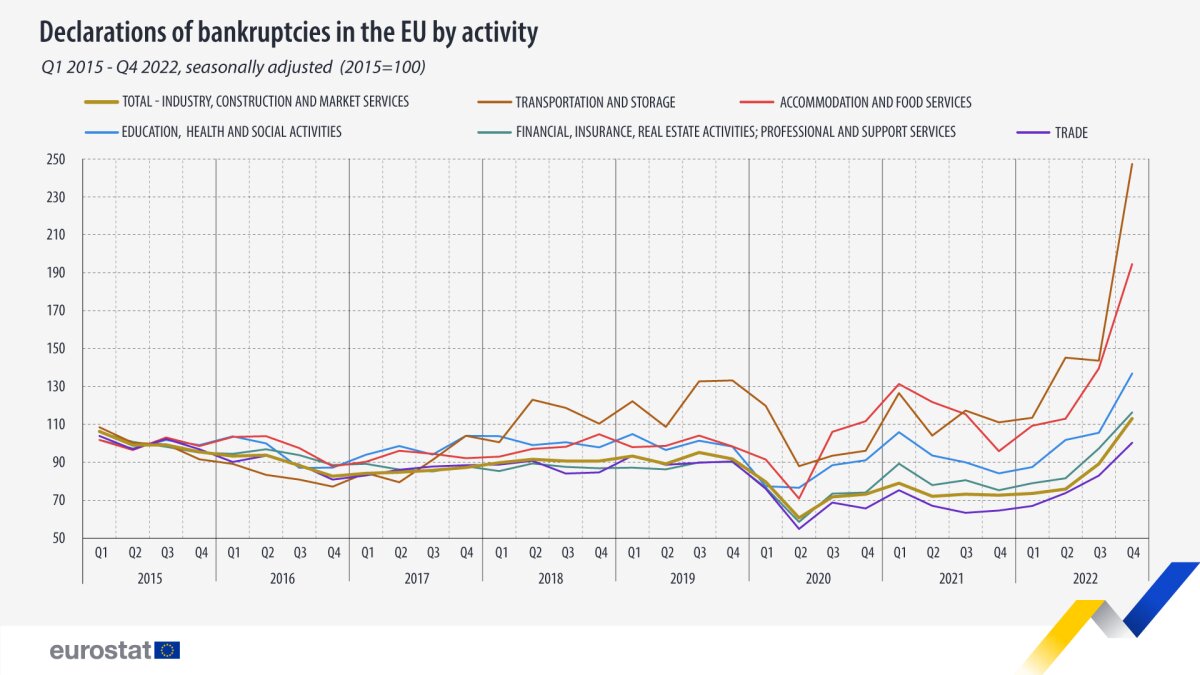 According to Altares, 4,400 restaurants in France went bankrupt in 2022, an increase of 112 percent compared to 2021. Industry is also doing poorly: Bankruptcies increased by 68 percent in 2022, and of 3,083 legal procedures for insolvency, 1,314 (42.6 percent) were in food production. Not all establishments that closed reached the point of bankruptcy. Therefore, the real effects may be much more severe.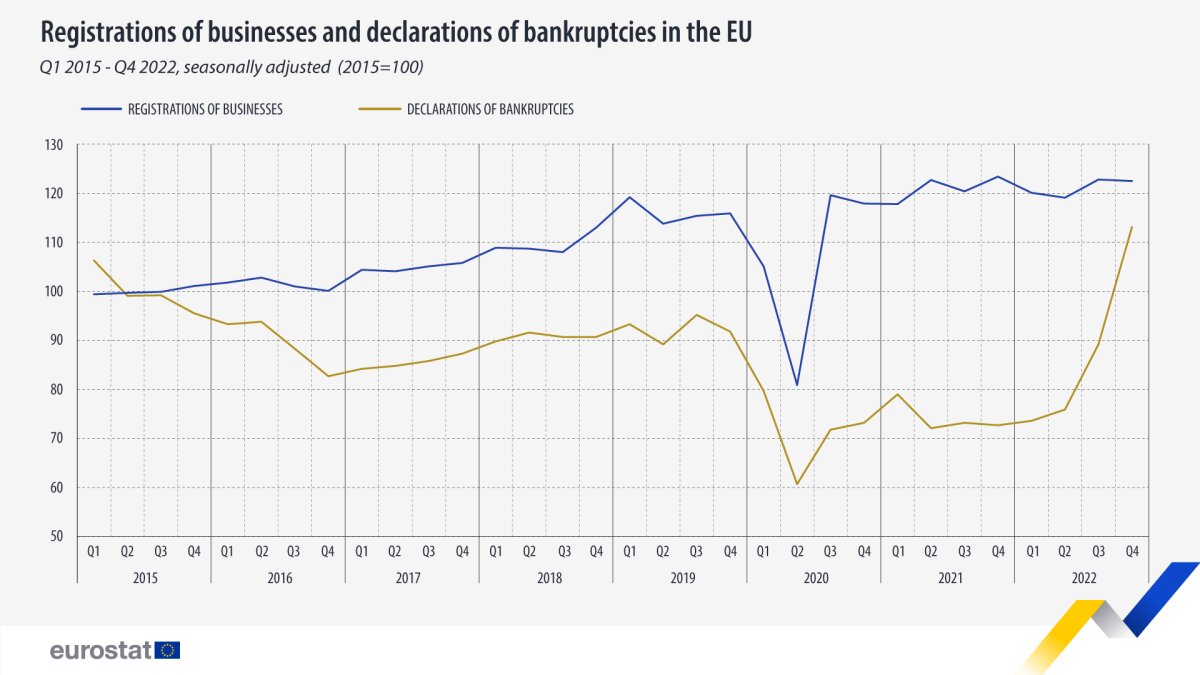 Another possible sign of trouble is that the number of bankrupt businesses in the EU is almost on par with the number of new businesses being registered. During most of the time for which data is available (2015 onward), more businesses were created than declared bankruptcy, according to Eurostat. But recent data shows that the number of new businesses registered has stayed roughly the same after recovering from a sharp fall in early-to-mid 2020; however, the number of bankruptcy declarations has shot up steeply. It is now approaching 2015 levels, when bankruptcy declarations exceeded the number of newly registered businesses, possibly because of the euro crisis several years prior.
"Everything is going to depend on the ability of the businesses to pay off their debts," Altares consultant Thierry Millon told La Tribune. Many businesses have not yet paid off their covid loans or the subsidies they received to offset negative effects from sanctions on Russia. In the case of France, these war loans are set to continue until the end of 2023.
According to the Bank of International Settlements, France has one of the highest levels of core debt (loans held by companies outside the financial sector). In 2019, France's core debt amounted to 152 percent of gross domestic product. In 2020, that shot up to 176 percent, and then dropped slightly to 168 percent in 2021.
Other eurozone nations are not far behind. Belgium's core debt was 139 percent of gdp in the second quarter of 2022. Finland's was 114 percent. The entire eurozone's core debt was 108 percent of gdp.
An Economic Certainty
How much economic damage remains below the surface? It is hard to measure precisely. What is certain is that debt is everywhere, and even though a crisis may not happen immediately, it will indeed arrive—with transformative consequences.
For decades, the Trumpet has warned about the danger of debt, both on the personal and national levels. Europe's debt will not disappear. It is leading to a larger crisis. European history shows that economic crises tend to produce political earthquakes. As EU founding father Jean Monnet said, "Europe will be forged in crises, and it will be the sum of the solutions adopted for those crises."
We agree with his statement. The late Herbert W. Armstrong, editor in chief of the Plain Truth, predecessor to the Trumpet, wrote in 1984 that a financial crisis in the United States "could suddenly result in triggering European nations to unite as a new world power larger than either the Soviet Union or the U.S."
Based on Bible prophecies in Daniel 8 and Revelation 13 and 17, the Trumpet warns that a severe economic crisis will help bring a European strongman to power, who will rule over 10 nations or groups of nations. Though the EU will shrink, the end result of this crisis will be a stronger, more unified Europe. Read about this coming transformation in "Our Financial 9/11 Was Prophesied" in our free booklet He Was Right.