Is Ethiopia's Civil War in End-Time Prophecy?
This suffering could lead to crucial end-time events.
Ethiopia is a full year into a bloody civil war. The country is rapidly becoming the new Yugoslavia, as ethnic groups that once made up one country turn on each other in ethnic cleansing and genocide.
At the start of the conflict—which rages between the government and the Tigray People's Liberation Front (tplf)—foreign-policy analysts predicted the worst. Dr. Yohannes Woldemariam called it "an existential crisis for Ethiopia." "It could mean state collapse. The whole region will be affected, from refugees to destabilization," he told the Telegraph (Nov. 4, 2020). Prominent Ethiopian journalist Tsedale Lemma tweeted that Prime Minister Abiy Ahmed's military venture "isn't 'a surgical operation' which will quickly end tplf, but an epistemic rupture of the [Ethiopian] Federation as we know it" (Nov. 4, 2020).
It looks like their predictions are coming true.
The suffering spreading through this geostrategically important country could alter the region and lead to the fulfillment of a crucial end-time biblical prophecy.
An Unending Bloodbath
It started with the election of Abiy Ahmed as Ethiopia's prime minister in 2018. The tplf had ruled Ethiopia since the 1990s, when Ethiopia's Communist regime fell. Abiy and the tplf have since been in a power struggle, culminating in the government's invasion of Tigray.
What was supposed to be a quick operation has turned into an unending bloodbath. The Tigray ethnic group comprises only 5 to 7 percent of Ethiopia's population of over 100 million. Despite this, the tplf has developed a sizable military. On August 10, Abiy called for all capable Ethiopians to join the military against the Tigray rebels, hinting he may implement mass conscription.
What started as an operation against the Tigray has grown to include ethnic infighting between the Oromo and the Amhara, Ethiopia's two largest ethnic groups. Each ethnicity comprises about a third of Ethiopia's population. The Oromo are traditionally Muslim, while the Tigray and Amhara are traditionally Ethiopian Orthodox Christians. But due to competing land claims, the Amhara are warring against both the Oromo and the Tigray. This has caused the Oromo Liberation Army, a militia linked to a terrorist group, to ally with the tplf. Abiy, while an Oromo, is a Pentecostal.
In this war, few weapons are off the table. The Ethiopian government has been accused of war crimes, such as using white phosphorus, a substance banned for use against humans by the Geneva Convention. They're also accused of deliberately starving the Tigray. In July, the Ethiopian government began blocking aid trucks from the Tigray region. Including those suffering from famine, the United Nations estimates there are over 5 million Tigray people in need of emergency aid. An October 7 UN report states that "an estimated 1.4 million children under the age of 5 and pregnant and lactating women need preventative intervention and malnutrition treatment."
In a September 28 interview with Reuters, UN humanitarian aid chief Martin Griffiths said the famine was "man-made" and capable of being "remedied by the act of government." Considering this deliberate famine targets one ethnic group—the Tigray—this could qualify as genocide.
The war isn't only destroying Ethiopia. It is impacting the wider world.
Affecting the Neighbors
Abiy also brought Eritrea, a neighboring dictatorship, into the war. Eritrea's strongman, Isaias Afwerki, sent troops into Tigray. Afwerki has ruled Eritrea with an iron fist since 1991 and has gone to war with literally all his neighbors. Ethiopia and Eritrea are normally avowed enemies, but they are apparently willing to work together if it means crushing the tplf. In August, the United States government accused the Eritrean military of massacres, sexual violence, torture and the murder of civilians.
Djibouti, another country in the Horn of Africa, is also getting involved. The Tigray have been accused of massacring the Afar ethnic group in the Afar province. The Afar are mostly Muslim. Thirty percent of Djibouti is Afar. Tadjoura, Djibouti's second-largest city, hoisted the flag of Ethiopia's Afar province in a show of support.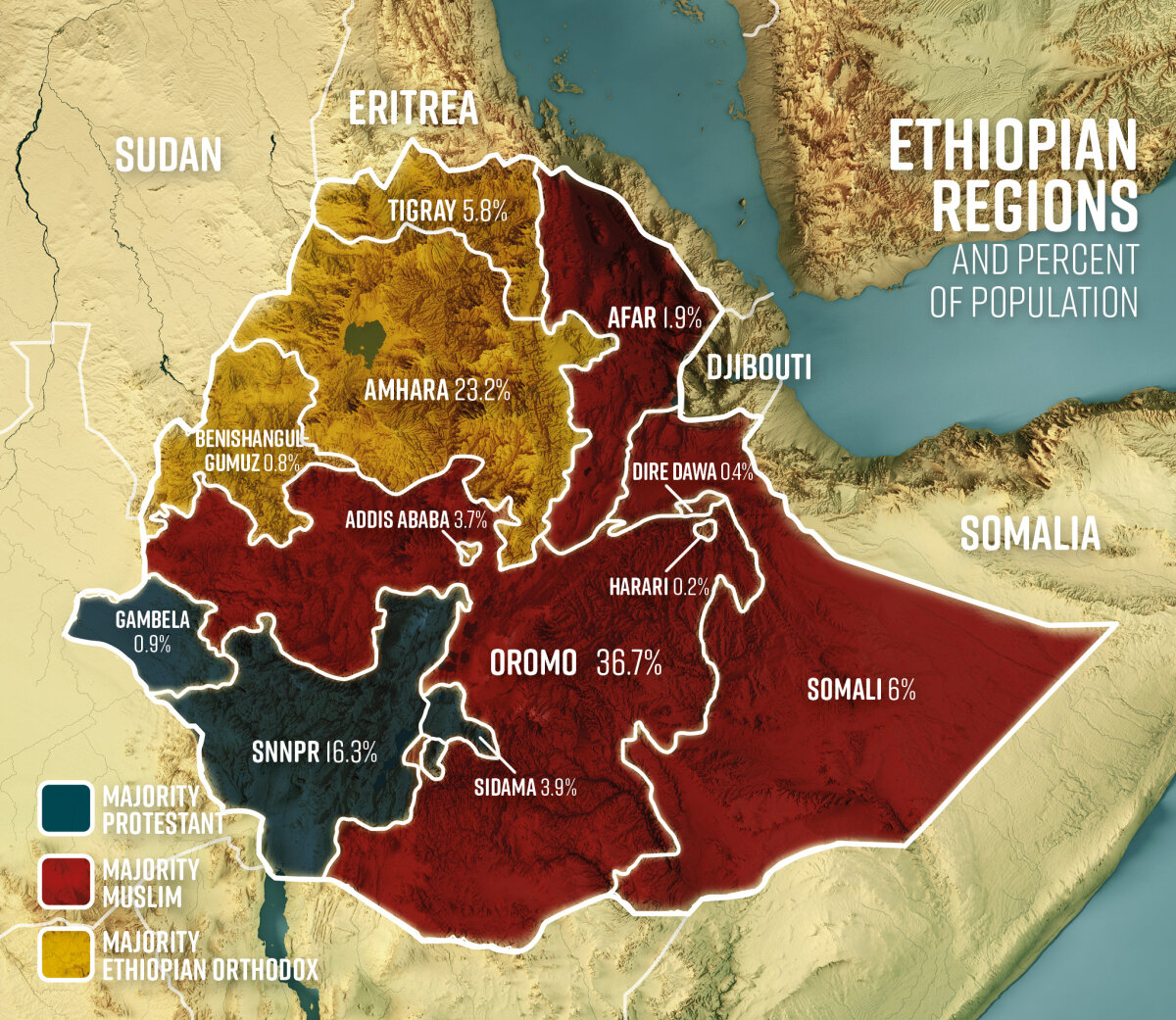 Several incidents between Ethiopia and Sudan have also occurred. Khartoum reported an Ethiopian "trespass into Sudanese land" in February. In March, Sudan took advantage of the chaos in Ethiopia to send troops to a territory disputed by the two countries. Sudan accused an Ethiopian militia of kidnapping a Sudanese military commander in July, prompting a border closure and military buildup on both sides of the border.
Then there is Turkish President Recep Tayyip Erdoğan. Abiy met with Erdoğan on August 18. They held a joint press conference and signed unspecified military cooperation agreements. Erdoğan already had good relations with Ethiopia. A few years back, the University of Addis Ababa gave him an honorary doctorate. He also commissioned the restoration of a historic Ethiopian mosque that is supposedly the final resting place of Najashi, an Ethiopian king prominent in Muslim tradition. The Turkish government has even advocated for Najashi's tomb to be put on the traditional Muslim pilgrimage route. Erdoğan is a committed Islamist. He supports terrorist groups like Hamas in Gaza and the Muslim Brotherhood in Egypt. He is, to say the least, interesting company for Abiy to keep.
What is the broader significance of these events? Biblical prophecy tells us.
Ethiopia in Prophecy
Ethiopia features in one of the most important end-time prophecies. Daniel 11:40 states that a European "king of the north" will attack a "king of the south"—radical Islam led by Iran (for proof of these identities, read our free booklet The King of the South). It states that this European empire "shall have power over the treasures of gold and of silver, and over all the precious things of Egypt: and the Libyans and the Ethiopians shall be at his steps" (verse 43).
The king of the north is prophesied to invade Egypt, Libya and Ethiopia. The implication is that these three powers will be allied with the king of the north's enemy, Iranian-led radical Islam.
Egypt and Libya are Arab states that are struggling to deal with radical Islam. It wouldn't be too surprising for them to ally with Iran. Ten years ago, the Arab Spring rocked both these countries and many others in the region; and similar shocks could radicalize them quickly.
But what about Ethiopia?
For years Ethiopia has been a stable, staunch ally of the United States. Ethiopia's Christian background has caused some Trumpet readers over the years to doubt the forecast that the nation will become Islamic.
Now, however, Ethiopia is mired in ethnic civil war. The Tigray People's Liberation Front, the traditional rulers of Ethiopia since the fall of communism, are fighting for survival. This violence is putting severe strain on the once-strong relationship between Ethiopia and America. In February, Washington accused the Ethiopian government of ethnic cleansing. Ethiopian leaders were so indignant that Andargachew Tsege, one of Abiy's advisers, urged protesters to burn American flags outside the U.S. Embassy in Addis Ababa.
Meanwhile, Abiy Ahmed is looking for other allies, like Islamist Turkish President Erdoğan. On the flip side, the Oromo Liberation Army, which represents a majority Muslim ethnic group, has joined the fight against the government. On both sides of this battle, Islam is creeping its way into Ethiopian politics.
Trumpet editor in chief Gerald Flurry writes this in The King of the South regarding the Daniel 11 prophecy: "Whoever heavily influences or controls Ethiopia will undoubtedly also control the small areas of Eritrea and Djibouti on the Red Sea coastline. These areas only recently became independent of Ethiopia. Also, I believe the Bible view is that these small areas are included as a part of Ethiopia."
We are seeing both Eritrea and Djibouti get drawn into the Ethiopian conflict.
A likely country to take advantage of Ethiopia's instability is Iran. It thrives on sponsoring proxies to take over unstable governments, such as Hamas in Gaza, Hezbollah in Lebanon and the Shiite militias in Iraq. While Iran is relatively far from Ethiopia, it has been trying to export its Islamic revolution into Africa for years. It has ties to Egypt's Muslim Brotherhood. There is also evidence to suggest that Iran sponsors rebel groups all over the continent, including in Gambia, Somalia and possibly Mozambique.
Desta Heliso, an Ethiopian journalist living in London, warned last year that the conflict could open a door for radical Islam. "There are some forces within and outside Ethiopia who claim that Ethiopia's 'historical' position as dar al Islam or 'land of Islam' must be recovered," he warned in his article "Ethiopia's Increasing Vulnerability to Islamic Extremism and What That Means for the Horn of Africa."
"Over the last 30 years, Islam has grown in confidence and in number in Ethiopia," he wrote. "Tens of thousands of mosques have been built in the country, Muslim businesses have grown, and an Islamic bank was established recently. Extremist tendencies, centering on Wahhabist teaching, have also grown" (Nov. 17, 2020).
This extremism has grown especially within the Oromo people. Catholic and Protestant buildings have been attacked in Oromo regions. Over the last few years, hundreds of Christians have been murdered. "It is alleged that these radical elements within Oromia are supported by outside forces, particularly in Egypt," wrote Heliso.
Ethiopia's transition to the Iran-led Islamist camp is certain to be painful. This is a country of over 65 million Christians. Bringing them into subjection to an Islamist regime will surely involve terrible brutality. Sadly, we are seeing such brutality already in the nation's civil war.
That is why understanding this prophecy is so crucial. Ethiopia's suffering is just a small part of the suffering coming soon on the whole world. But it is also a critical step in the fulfillment of end-time Bible prophecy. It is a step toward Jesus Christ's Second Coming and a permanent end to genocide, ethnic cleansing and religious persecution.
Keep watching the Horn of Africa. More still must take place before Ethiopia turns Islamist. But events are unfolding there that will ultimately impact the entire world.