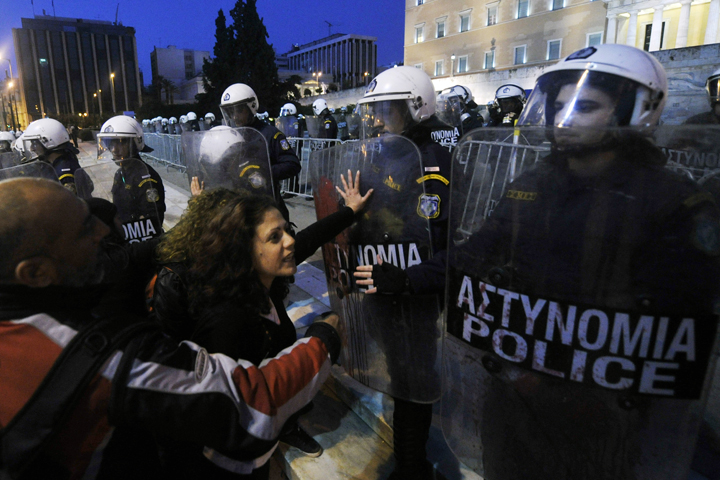 Pensioner's Suicide Spark Riots in Greece
Prepare for Europe's civil unrest to grow worse.
A 77-year-old man shot himself in a busy square 100 yards away from the Greek parliament on April 4, prompting protests from citizens who blame the government and its austerity measures for the man's death.
"I can't find another way to react apart from putting a dignified end to things before I start looking through garbage in order to survive and before I become a burden for my child," said his suicide note, according to the Greek paper Ekathimerini. He reportedly compared the Greek government to the regime installed under the Nazis.
The man's predicament is not unique. Eleni Bekiari, a psychiatrist who runs a suicide helpline, said "Calls have doubled in the last year." She said that economic reasons are invariably cited as the main cause by those considering taking their own lives.
Syntagma Square, the place the man chose for his suicide, has become a focal point for protests against Greece's austerity measures.
Around 2,000 people gathered, peacefully at first, before activists began throwing rocks and petrol bombs at police.
Several posted notes on the tree where the man shot himself, with messages like "It was a murder, not a suicide," and "Austerity kills."
The conservative newspaperEleftheros Typos said the man was a "martyr for Greece." His suicide should "shock Greek society and the political world and awaken their conscience," as the nation prepares for a general election, the paper wrote. Another conservative paper, Kathimerini, wrote: "If our political leaders had the slightest sense of responsibility, they would have kept their mouths shut."
The Trumpet has been warning that this kind of social unrest will only get worse in Europe. "Social unrest and riots will eventually force Europeans to succumb to a strong united government of Europe, led ultimately not from Brussels, but from Berlin," wrote editor in chief Gerald Flurry in 2008.
This man's death won't push German influence out of Greece. Instead, it will likely make the Greek government more willing to hand over power in return for help. This kind of social unrest will soon spur the rise of a draconian central authority in Europe that can deal with it.
Watch for Europe's financial crisis to spur more civil unrest, as governments offend their citizens with more austerity measures.