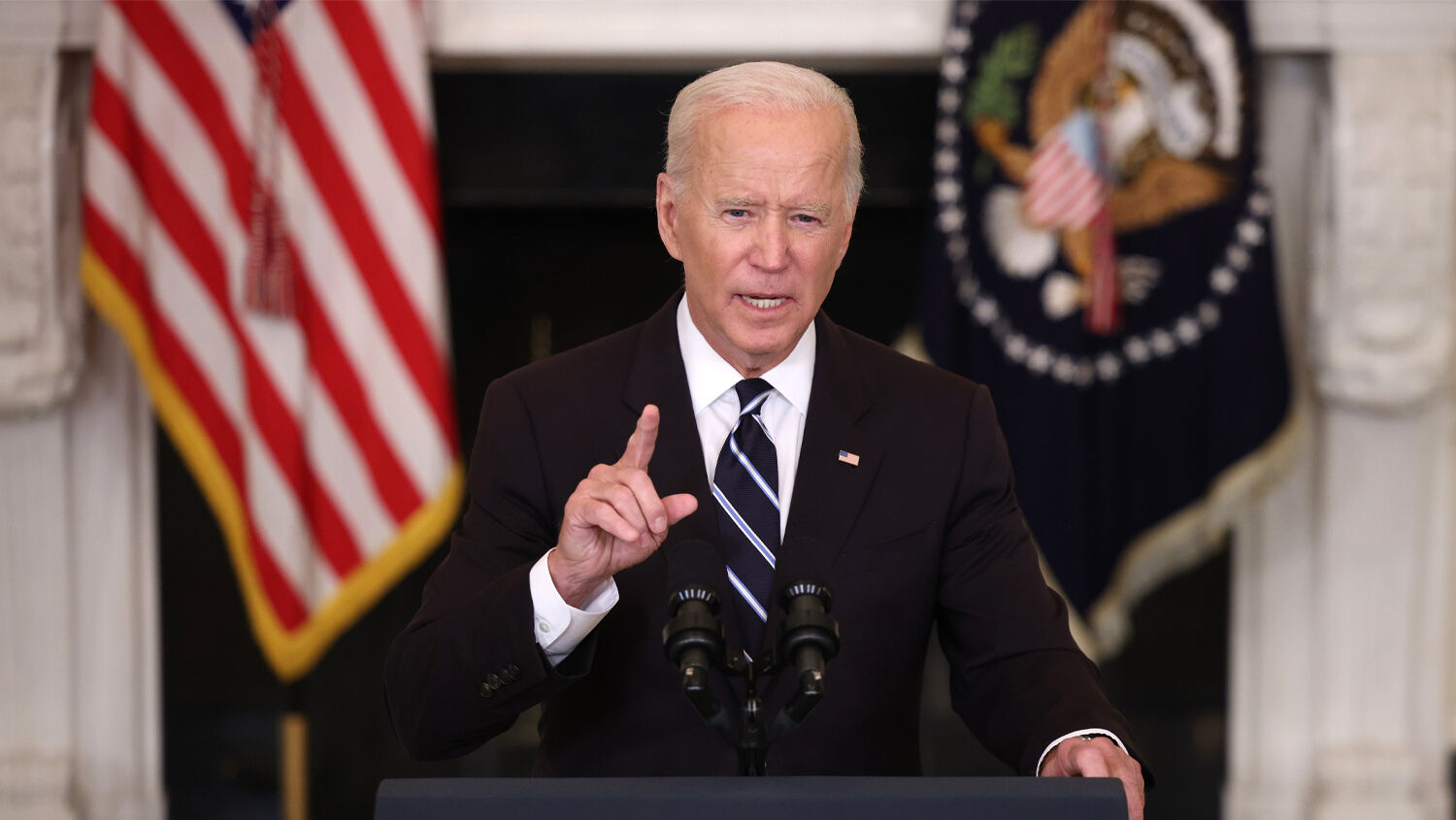 Joe Biden: Jab or Else
Joe Biden unveiled a radical new plan today to force two thirds of the American workforce to get the covid vaccine. The New York Times wrote that the measures "will affect almost every aspect of American society."
All businesses with more than 100 workers would have to require their employees to be vaccinated or to take a covid test every week. Mr. Biden said he would instruct the Occupational Safety and Health Administration (osha) to draw up the rules. nbc News reported that businesses could be fined $14,000 per violation—citing an unnamed "senior administration official." This would affect around 80 million workers.
Federal workers, contractors and health workers at facilities that receive federal Medicare or Medicaid would have to get the jab. They would have no alternative option to take regular covid tests instead.
"We've been patient. But our patience is wearing thin, and your refusal has cost all of us," Mr. Biden told all those who have refused the vaccine. He claimed, without evidence, that the "unvaccinated overcrowd our hospitals, are overrunning the emergency rooms and intensive care units, leaving no room for someone with a heart attack or pancreatitis or cancer."
He also promised to attack any elected officials who would try to shield their voters from these mandates. "If these governors won't help us beat the pandemic, I will use my power as president to get them out of the way," he warned.
Biden also asked operators of large entertainment venues to require vaccine passports or negative tests. Many big businesses are already requiring their workers to be vaccinated, at this administration's request.
"The science makes clear if you're fully vaccinated you're highly protected from severe illness, even if you get covid-19," he said—even while Israel, one of the most heavily vaccinated societies on Earth, struggles with another outbreak of covid.
This announcement could mean big changes for more than just America. The United States is supposedly the world's most powerful freedom-loving nation. This announcement will encourage politicians across the Western world to push for their own draconian vaccine policies.
"Jab or Else" was the cover of our July Trumpet issue.
"The response of American government and our media to covid-19 is revealing a lot about our society and ourselves," began the cover article. "It is showing us how quickly the world can change, how much we take our rights for granted, and how much or how little we value truth."
The same businesses, government and media that foisted destructive lockdowns on the world have "transitioned to pressure everyone to get vaccinated. It includes a mix of feel-good advertising, shaming and fear-mongering," wrote Trumpet executive editor Stephen Flurry. "And it is marked by the same propagandistic and deceitful techniques that were used for the lockdown campaign."
A separate article warned of the imminent rollout of vaccine passports:
In America and Britain, and around the world, governments are planning unprecedented surveillance and control on the pretext of combating covid-19.

This new surveillance society will require no rustling of papers. Governments are working on the most convenient system of identification and surveillance ever using smartphones and online tools. But the result is the same. New vaccine passports could soon mean the government can track your every move.
That Trumpet issue answers all the most important questions about the vaccines. Are they safe? What is in them? Where are vaccine passports leading? Are the vaccines the mark of the beast? Why are there so many lies around this subject? And what is the best way to be protected against covid-19 and other diseases? You can read the issue online. And you can sign up for your own free subscription to the Trumpet magazine here.