The Finance of the Future?
'Fintech': miracle, or meh?
The world is on the cusp of a financial revolution—if you believe the fans of new financial technology ("fintech").
"[W]e're in the biggest experiment in human history when it comes to money, identity and freedom of expression," said Ameer Rosic, ceo of Blockgeeks. These new technologies will "profoundly affect people in all walks of life," Alex and Don Tapscott wrote in Blockchain Revolution.
To the uninitiated, terms like "bitcoin," "block chain" and "cryptocurrency" remain obscure. But enthusiasts believe these technologies are destined to become as important as the once-obscure technologies of the "worldwide web," the "Internet" and the "computer."
"Blockchain is the key technology of the next 20 years," said Philipp Sandner, head of the Blockchain Center at the Frankfurt School of Finance and Management.
It's not just financial professionals getting excited. Conservation biologist Guillaume Chapron believes that "blockchains can even save the planet" (Wired, May 22, 2017).
"Look, blockchains aren't magic, it can't do everything, it's not like we're out here solving world hunger," said Brigid McDermott, ibm's vice president of blockchain business development. "But then I thought, 'Wait, solving world hunger is exactly what we're doing'" (ibid).
"Blockchains aren't magic, but maybe they can perform miracles," Wired concluded.
"Blockchain is the key technology of the next 20 years." - Philipp Sandner, head of the Blockchain Center at the Frankfurt School of Finance and Management.
Not everyone is so enthusiastic.
Nouriel Roubini, an economist who shot to fame after correctly forecasting the 2008 financial crisis, wrote an article with fellow economist Preston Byrne arguing that blockchain "might just be the most overhyped technology of all time."
What is the truth? Is fintech a miracle or … meh?
Forecasting technology is notoriously tricky. In 1955, the president of the Lewyt Vacuum Cleaner Company said, "Nuclear-powered vacuum cleaners will probably be a reality within 10 years." Web pioneer Robert Metcalfe said in 1995, "I predict the Internet will soon go spectacularly supernova and in 1996 catastrophically collapse." Microsoft ceo Steve Ballmer confidently asserted in 2007, "There's no chance that the iPhone is going to get any significant market share."
We at the Trumpet are not financial professionals. We don't have years of advanced education and experience in global banking and technology. But we do have some insight into the financial system of the future—because we have Bible prophecy.
A New Financial Empire
In 1984, Herbert W. Armstrong wrote that a massive banking crisis in America "could suddenly result in triggering European nations to unite as a new world power larger than either the Soviet Union or the U.S." (co-worker letter, July 22, 1984).
Mr. Armstrong came to this conclusion based on a lifetime of studying Europe. He even discussed it with European politician Otto von Habsburg, who agreed that Europe would only truly unite if threatened by a financial crisis.
But Mr. Armstrong's forecast was also based on biblical prophecy. The Bible tells us the global financial system is on the brink of revolution.
Revelation 17 and 18 describe a "beast," symbolic of a great empire. The beast has seven heads, a symbol of seven successive resurgences.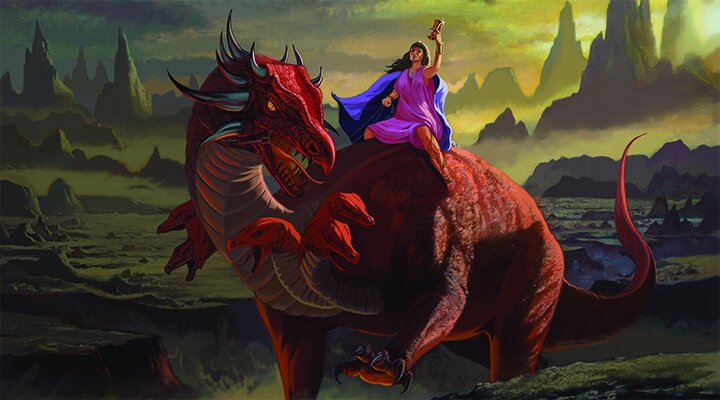 The Bible tells us this new empire will be a financial superpower. When this European power eventually falls, "the merchants of the earth shall weep and mourn over her" because they "were made rich by her" (Revelation 18:11, 15).
Revelation 17:10 makes this point clear: "And there are seven kings: five are fallen, and one is, and the other is not yet come; and when he cometh, he must continue a short space." In other words, this empire has seven phases. Each head symbolizes a different ruler or dynasty. These dynasties come one after the other. At the time this prophecy was revealed in this end time, five of these rulers were gone, one was on the scene, and one would come later. Between these periods of power, the beast appears dead. It "was, and is not," until it "shall ascend out of the bottomless pit" (verse 8).
The start of Revelation 17 tells us that this beast is ridden by "a woman," which in biblical prophecy symbolizes a church.
Where in world history has there been a series of empires influenced by a major church? There is only one answer: Europe. Revelation 17 and 18 are describing a European power with a long history. It has undergone six resurrections already. The seventh is now rising: a united European empire.
The Bible tells us this new empire will be a financial superpower. When this European power eventually falls, "the merchants of the earth shall weep and mourn over her" because they "were made rich by her" (Revelation 18:11, 15).
At the time the Bible was written, the greatest trading center was the city of Tyre. The Phoenicians of Tyre traveled around the world and were famous as merchants. This is why the Old Testament often uses the label "Tyre" to describe this soon-coming power.
Isaiah 23 describes this modern Tyre joining a "mart of nations" with powers in the East: China and Japan (referred to by their ancient names of origin, Chittim and Tarshish). Ezekiel 27 refers to this same power. Here God calls this modern Tyre "a merchant of the people for many isles" and describes it as doing business with merchants around the world.
Read "Trade Wars Have Begun" from the April 2017 issue.
Revelation 13 provides additional prophetic details about this power. It says that no man will be able to "buy or sell" without this regime's approval (verse 17). Not only is it a great trading empire, but the government also has authoritarian control of the economy.
These prophecies mean there are some huge changes coming to the global financial system. This system is currently dominated not by Europe, but by the U.S. Hence Mr. Armstrong's forecasts of a global financial crisis beginning in America. A revolutionary change would be necessary to bring about a European-dominated global currency. This crisis could also spark Europe to suddenly consolidate as a united power. We have already witnessed a rehearsal of this trend in the way that the euro crisis prodded Europe to take major steps in this direction.
But could fintech also play a role in this revolution? After all, its enthusiasts forecast that this technology will revolutionize global finance.
Intriguingly, the individual the Trumpet expects to play a key role in building this new European superpower is heavily involved in fintech.
A European Strongman
The Bible prophesies that the seventh resurrection of the European power will be led by a strongman. Daniel 8:23-24 describe the rise of "a king of fierce countenance, and understanding dark sentences." Verse 25 says he will be defeated after he stands up "against the Prince of princes"; this reveals the time frame for this fierce king's reign: He will come in the very end time, right before Jesus Christ's Second Coming. For proof that this man's empire is the same power described in Revelation 17, read "Why the Trumpet Watches the Rise of a German Strongman."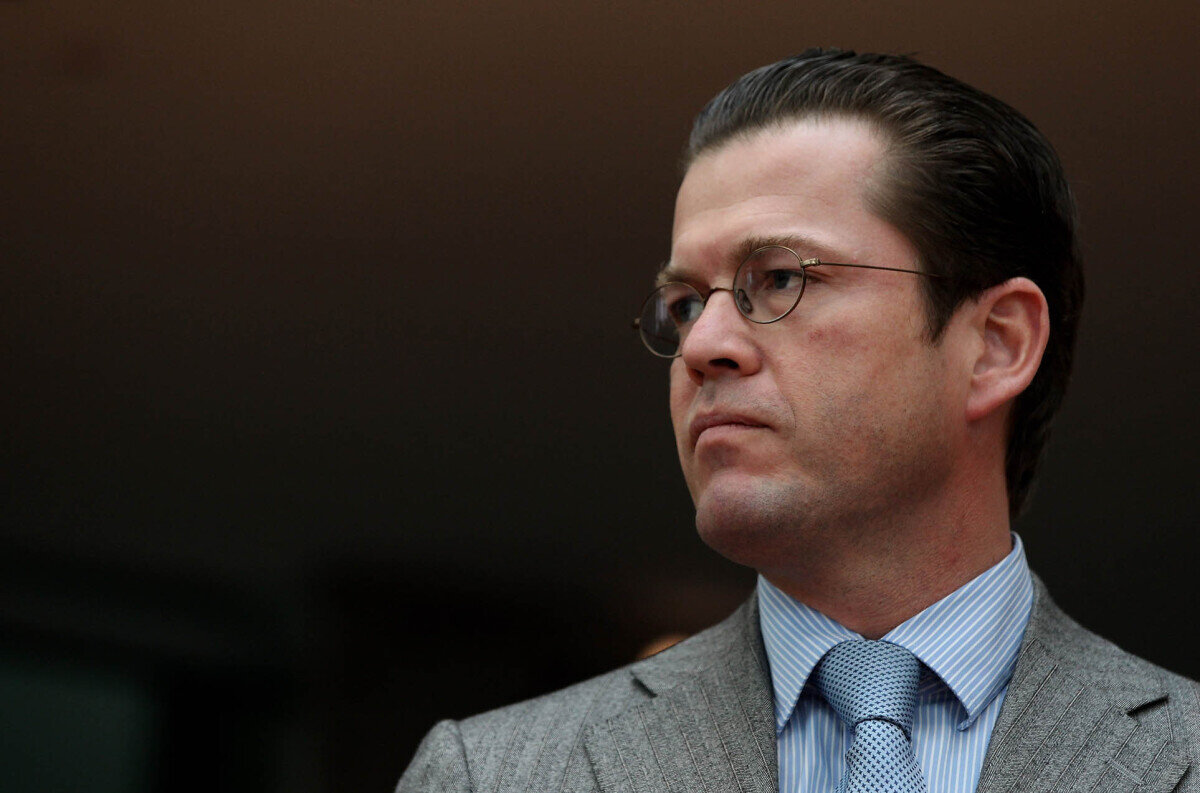 "I am convinced that blockchain will evolve and be very important." - Karl-Theodor zu Guttenberg
America's financial system collapses. This throws Europe and the globe into a financial crisis. This strongman then helps unite Europe. It is logical to surmise that he is able to do so partially because he has knowledge and connections relating to global finance.
Since 2009, the Trumpet has said that the strongman in this prophecy could be former German Defense Minister Karl-Theodor zu Guttenberg.
Trumpet editor in chief Gerald Flurry explains why in his free booklet A Strong German Leader Is Imminent:
An impressive man appeared in the front line of German politics when he was appointed as Germany's minister of economics in February 2009. Then Angela Merkel rocketed his political stature overnight later that year by giving him the senior portfolio of defense minister in her coalition cabinet. …

Guttenberg quickly passed Chancellor Merkel in favor as the most popular politician in Germany …. This aristocratic Guttenberg is particularly interesting because of his family and political connections. His early development in political life was guided by [Edmund] Stoiber …. Stoiber's political mentor was the Bavarian prime minister whom he succeeded, Franz Josef Strauss, who was known in his time as "the strongman of Europe."

Guttenberg is also connected through part of his family line to the house of Habsburg. Strauss and Otto von Habsburg shared a common dream of a united Catholic Europe. Both personally shared details of that vision with Herbert W. Armstrong during visits they made to the campus of Ambassador College in Pasadena, California. …

Take Guttenberg's impeccable Frankish-Bavarian Roman Catholic connections into mind and add them to the thread of political thought that has pervaded Bavarian politics for decades under Strauss and Stoiber—the dream of a united Catholic Europe under German leadership. Then add to it something that neither Strauss nor Stoiber ever possessed—a striking family title that cements all of these connections together—and we have a man to watch in the shaky coalition of Chancellor Merkel's government. …

The current Baron Karl-Theodor zu Guttenberg's official title was granted to his forebears during the 18th century. His correct title is Reichsfreiherr, the English translation being, "Baron of the Holy Roman Empire."

You can read more on why we watch Guttenberg by requesting a
free copy of A Strong German Leader Is Imminent.

Guttenberg was forced to step down in 2011 due to a plagiarism scandal. But he proved hugely popular last autumn when he returned to politics to campaign for his Christian Social Union party, and he is becoming an increasingly vocal commentator on German, and even global, politics.
He has also become heavily involved in financial technology.
Guttenberg and Fintech
In August 2013, Guttenberg founded Spitzberg Partners, a consultancy firm in New York. "Our core mission is to help technology and financial services companies invest and expand their business in major European and emerging markets," he said. "We have a unique background in high-level government positions and an excellent team with specialists in new technologies and financial markets."
One of Spitzberg'sspecialties is the field of cryptocurrency—digital currencies not controlled by national governments. The firm has a "significant portion" of fintech companies as its clients, Guttenberg said.
Spitzberg has worked for the state of Delaware, for example, to integrate new technologies into the financial system. The state is experimenting with ways to use blockchain in its interactions with businesses and has introduced a bill in the state Senate recognizing blockchain as a means of owning and trading stocks.
Guttenberg is also on the advisory board of ripple, a major cryptocurrency and serious rival to the more famous bitcoin. "Unlike bitcoin, ripple is a cryptocurrency that works with banks around the world," wrote Handelsblatt. One German trading website called ripple the "bitcoin of banks." Guttenberg himself wrote that ripple is "taking a wise middle course as they replace the centuries-old correspondent banking system, yet while integrating the affected banks through open neutral protocols in finding solutions and linking them together." Ripple has partnered with Santander, UniCredit, ubs and the Frankfurt ReiseBank.
"Guttenberg and his team have continued to work behind the scenes to help build out ripple's network," wrote CoinDesk, adding that ripple has "swift square in its sights." Ripple is aiming high: swift is the main network that facilitates transactions between banks around the world.
Guttenberg is also on the board of directors for Mountain Partners, one of Switzerland's largest tech-focused investment firms.
"The drift toward world economic collapse is the most serious threat to the continued existence of the present civilization." - Herbert W. Armstrong
With all this background, Guttenberg is a frequent speaker at conferences on fintech. He told German newsmagazine Stern that blockchain is among his favorite subjects. At one conference he said, "I am convinced that blockchain will evolve and be very important."
Guttenberg has been Germany's economics minister and now has experience in dealing with financial leaders from both the private and government sector from around the world. There are few people better placed to use modern technology to rescue and rebuild a broken financial system. Even if modern fintech is not used, Guttenberg's experience in dealing with banks and leaders on issues surrounding currency and finance gives him an excellent background to help launch a new financial system.
Vote for Petro
The idea of government adopting some form of fintech is certainly not far-fetched. The Swiss ubs, Goldman Sachs, the German Stock Exchange, Nasdaq and the Bank of England are just some of the big names testing and experimenting with financial technology. Venezuela, which is in dire financial circumstances, has introduced a government-backed cryptocurrency, the petro. The Russian government has prepared legislation to produce a crypto-ruble. Twenty-two EU countries have launched a European Blockchain Partnership to look at ways to integrate these technologies in Europe's financial system.
Some aspects of fintech could tie in with what Bible prophecy has forecast ("Blockchain 101 10110").
Blockchain and cryptocurrencies are a bit of a "Wild West." There are already nearly 1,800 cryptocurrencies, and more are constantly being introduced. Bitcoin, the most prominent digital currency, has seen its values swing wildly. When it first appeared in 2009, one bitcoin was worth much less than one cent. In 2011, it was worth $1. In 2013, it was worth about $100. In December 2017, it peaked at $17,500. Now it's back down to about $9,000.
If this technology is to become mainstream, Guttenberg's approach of mixing old and new tech seems to be a promising approach, as it may help smooth out such extremes.
Forecasting exactly how this technology will be used is a mug's game. But the Bible shows us that the man we have been watching over the last decade could be well placed to use it in Europe's future.
"In the world, the drift toward world economic collapse is the most serious threat to the continued existence of the present civilization," wrote Mr. Armstrong. It is this collapse, he explained, that "could suddenly result in triggering European nations to unite as a new world power larger than either the Soviet Union or the U.S." (op cit).
This new world power would be dangerous. Since World War ii, Europe has been welded to the United States. It has profited from the global economic system based on the dollar. The American Navy protects Europe's overseas trade. A financial collapse in the U.S. would be a crisis for Europe, but it would also cut the Continent's trans-Atlantic ties.
Already these ties are fraying. Guttenberg is no friend to the U.S. under Donald Trump. Another project he is involved in is the Renew Democracy Initiative, which he founded last year alongside Garry Kasparov, Anne Applebaum, Max Boot, Bret Stephens, Richard Hurowitz and others. "The starting point of this initiative was the election of Donald Trump to the U.S. presidency," he said. Guttenberg sees Mr. Trump as part of "the resurgence of authoritarian and extremist ideology in Western democracies."
"Listening to Mr. Guttenberg and the way people are responding to him, I have to say that it looks like the relationship between the U.S. and Germany is already dead!" Mr. Flurry wrote after Germany's federal election last year.
"Prophecy tells us in detail just what this strongman is going to do," Mr. Flurry continued. "It also says that he can't even imagine the damage he will wreak on America—but at a certain point, his mind is going to change. (Read about this in Chapter 2 of my booklet on the Prophet Habakkuk.) We are watching for that mind change. Perhaps, to some degree, it is already happening!
"These things might be the best indication that Baron Guttenberg could be the man we are watching for."
So many of God's prophecies discussed by Mr. Armstrong have already been fulfilled. Europe is well on its way to becoming the unified state he described. Impending catastrophes promise to dramatically accelerate this trend. In that 1984 letter, Mr. Armstrong wrote that this new European "world power" would bring great destruction on the world "suddenly."
"And that," he wrote, "will lead quickly into the Second Coming of Christ and end of this world as we know it." Closely watch these trends. The details remain to be seen, but the word of Bible prophecy is sure—which is cause for tremendous hope!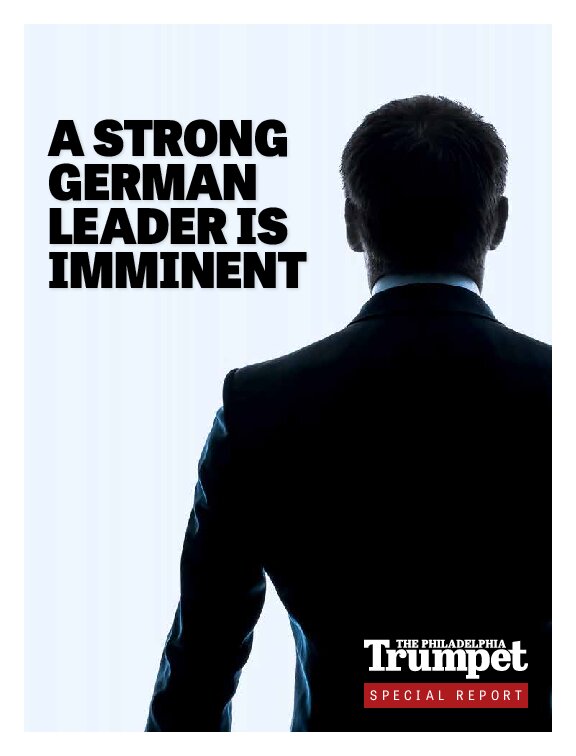 Why We Watch Guttenberg
Strong leaders are on the rise, and Bible prophecy says Germany will have one soon. To learn more, request Gerald Flurry's free special report A Strong Leader is Imminent.