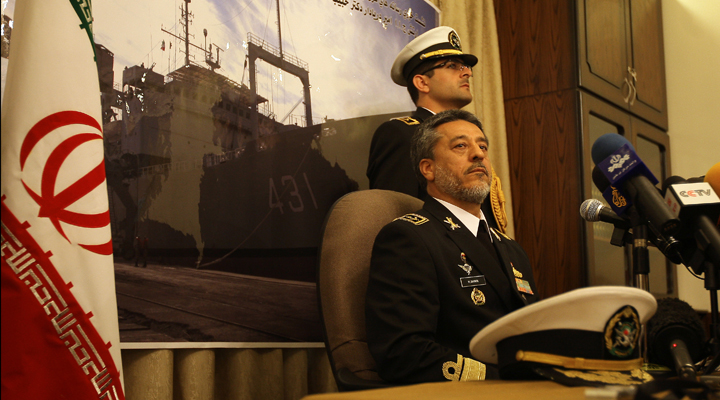 Iranian 'Fleet' to Patrol Mediterranean
Iran's 24th naval fleet is taking action in controlling the Mediterranean.
Iran's 24th Fleet will patrol the Mediterranean, Red Sea and Suez Canal, Iranian Navy Commander Rear Adm. Habibollah Sayyari announced January 16, according to Iranian state-owned Press tv. The fleet's three-month voyage will see it traveling as far as Southeast Asia.
The term "fleet" is a bit of an exaggeration. The Jerusalem Post reports that the 24th Fleet is made up of one submarine and one warship.
"The Navy's 24th Fleet of warships will patrol the north of the Indian Ocean, the Gulf of Aden, Bab-el-Mandeb, the Red Sea, Suez Canal and the Mediterranean Sea for three months and will even sail as far as southeastern Asian countries," Sayyari said, according to Press tv.
"We announce that we are able to provide security in the region with the help of all neighboring countries," he said.
The Mediterranean used to be off limits to Iran. Before the fall of Egyptian President Hosni Mubarak, Iranian ships were not allowed through the Suez. This trip will be the third since Mubarak's demise.
Sailing through the Red Sea is a provocation to Israel. Proudly announcing plans to sail around the Mediterranean is a provocation to Europe.
Iran is working to gain control over the Red Sea and Suez Canal. Radical Islamists are running Egypt. They'll soon be able to exert control over one of the world's most important shipping lanes. The Islamists will be able to do more than let Iran's ships through—they'll be able to threaten to keep others out.
Iranian ships will soon be sailing in Europe's backyard. That's going to get Europe's attention.
Watch for Europe and especially Germany to assert their control of the Mediterranean. This is another pushy move from Iran. Europe will push back.
For more information on Iran's operations, see our article "Libya and Ethiopia Reveal Iran's Military Strategy."